Gearing up for school at El Shaddai
When you have one of the best Christian and English schools for over 40,000 students in your area and only about 8 desks for each class you have to turn people away.  The last couple of weeks have been spent meeting and interviewing potential students and their families to see if our school is a good fit for their child.  Often we have to tell families who are excited about their child getting a great Christian education that we have to put them on a waiting list.  It is extremely difficult to see their desperate faces after sharing that news.

God opened the door several times to share the gospel this week with students and families. A man said he was a believer since birth.  It was a joy to ask him some more questions to find out he put his trust in Christ when he was 9 or 10 years old.  He is now more equipped to share his God story with others.  I always ask parents and students if I can pray for them in the interviews.  One student's story was heartbreaking.  His dad died less than a year ago.  His mom and other brother went to the states and he is now living with an aunt near the school.  They were looking for financial help for him to attend school. We took time this week to pray with him and his aunt for God to provide the funds for him to attend school.
El Shaddai Learning Center had a team from Florida come and serve with them here in Haiti.  A team of American teachers shared many helpful ideas with our Haitian teachers during a busy 3 day training seminar.  Our teachers walked away with some great info and a heart to change some things about themselves and how they treat and react to their students.  We are looking forward to a great year now scheduled to start September 16th!  We appreciate your prayers as we have students who still need to put their faith in a Savior and many who need to grow in their love for Him and others.
Kofael Happenings
We made a family trip to see the ladies of Kofael the 3rd weekend in August. It was a sweet time of fellowship. One of our elderly ladies had just returned from her husband of 25 years funeral earlier that morning. She has been caring for him in his sickness the past few years while struggling to take care of her family. It was a blessing to be able to surround her in prayer. The sound of Haitian women praying is one of the sweetest sounds we have ever heard. Our friend who had just left her husband's gravesite asked if she could pray for us in return. She who the world would call "the least of these" prayed for provision for our family to have a vehicle so that we could come to visit them more often. It was a humbling and precious time.
Elisabeth made another trip the next weekend for the monthly Kofael meeting. This was a special meeting because we had raised money to be able to purchase school supplies for each woman to help send her children and/or grandchildren to school. This meeting we were giving the supplies purchased from one of the women in the program which also brought added blessing to her family through this large sale. The cost of school in Haiti is one of the greatest hardships for Haitian families. School was once again announced delayed by the government until October due to so many families not having the funds to begin. Thousands of children are placed in orphanages simply because their parents cannot afford school and other basic necessities. Many of the women in the Kofael program came to one of the Kofael leadership looking for help to find an orphanage to place their children. Providing school supplies is one small thing we can do to help keep families together. The women were very excited to each get a packet of supplies. Thank you to those who contributed to their excitement and helped meet this important need.
Frantz and Julienne, our Haitian leadership team journeyed back to St. Marc with Elisabeth so that we could spend the next day discussing upcoming important milestones for Kofael. There are currently forty-one women in the Port au Prince program. Nine finished paying loans in August, five of those are ready for their final loan. Fourteen more will finish paying loans this next month. Three will finish in November. Fifteen more have finished their first loans and are currently waiting for their second loans. We are currently not able to take any more women into the program and are praying for provision of $5,850 to be able to grant some of the next loans to the women. As the women pay back their loans we are able to roll over the money into the next loans. But having to front the initial loan money for so many is a difficulty. God has faithfully always provided and the women have been faithful in paying back each loan. Kofael needs fourteen ladies sponsored for their second loan of $150 each and fifteen ladies sponsored for the 3rd loan of $250 each (totaling the $5,850). If you are led to sponsor a one time Kofael microloan in the amount of $150 or $250, please contact us to let us know. Please pray with us as we trust Him for this amount!
Link with information to donate to Kofael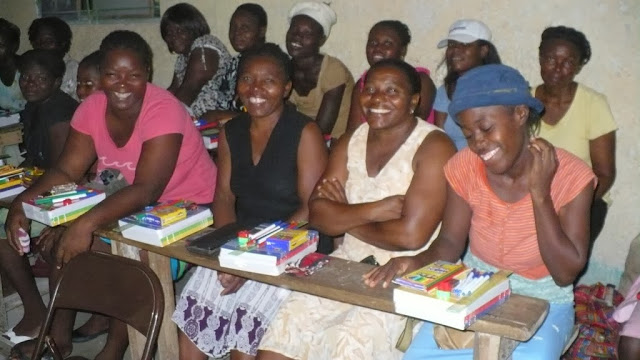 Family Life
We were blessed with eighty-two consecutive days of visitors since June! We are still trying to catch our breath a bit and enjoy some much needed family time in the midst of gearing up for school and Kofael happenings. We enjoyed a visit from two boys we are close to and help sponsor for school and their mother staying with us for a few days last week. We also made the decision to add another addition to our household this past month. Roselie is a dear friend we have known for the past 2 years. She has to be the best cook, housecleaner, and hair braider around! Roselie badly needed a job and we badly needed help in the midst of so many guests, so many Haiti house issues, ministry and summer homeschooling. Roselie was living with her aunt in Port au Prince so having her come to work with us so far away meant having her move in with us. She is sharing a room with Genise and little Evangeline who also share our daily lives. We can hardly believe Evangeline will turn one on September 28th and has always been with us. She definitely keeps us all on our toes now that she is so mobile! Her busy mother also welcomed the company and additional help from Roselie. Now we don't know what we ever did without her! Our household now has us six Reams, Roselie, Genise, Evangeline, Dalencourt "Daly" and Brownie (nicknamed "Houdini"), our two adopted Haitian mutt dogs….along with whomever else decides to knock on our door! We are a pretty rowdy and blessed bunch! Our biggest personal family prayer request right now is for the provision of a vehicle because getting this bunch out of the house without one is a very difficult task!
Link to donate to vehicle fund
We are also praying for new partners to pray and financially come along us so that we may continue to live and serve in Haiti. Our current regular pledged support is meeting only 20% of our minimum budgeted needs.
Link with information on how to donate towards one time or monthly giving for our family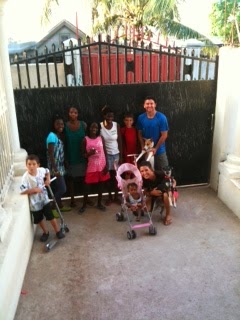 By God's grace through a few generous one time donations over the past few months He has sustained us. We continue to trust in His faithful provision and be encouraged by the prayers of the saints. Please don't hesitate to let us know how our family can pray for you as well!
By God's Faithful Grace,
The Ream Team