O Lord, give me the grace to be
Content with what You give to me.
No! More than that, let me rejoice
In all You send me—it's Your choice!

—Anonymous
Last spring when we begin to realize that relocating might become a reality, we just figured we would move all the stuff we needed and sell what would not fit into our downsizing. That is basically what we did but the way God provided for that to happen was our first surprise blessing. Our former guest house had three guest bedrooms, two bathrooms, a second kitchen and living area in addition to our upstairs family quarters that doubled the same. We needed to shed at least half our stuff. Moving things like an 1,800 pound generator, heavy kitchen appliances and beds, unhooking and reinstalling the power and water sources all seemed like  incredibly daunting tasks especially since our vehicle had been down forty percent of the time. We knew we needed to move but how to accomplish moving in Haiti was another matter.
I think it was the third time I had heard God whisper, "You should tell Jennifer McKinney that your house will be available" before I rolled over one night and told Eric, "I think we are supposed to let Jennifer McKinney know that this house will be available." His response argued the same as mine before I couldn't shake the whisper the third time around. "But we aren't even sure this move is going to work out yet. And besides, the Mission 1:11 group already has a guest house all picked out. They wouldn't want this house." Mission 1:11 hosts mission teams based out of a Saint Louis area church that we have had the sweet privilege of bumping into through overlapping ministries and friends the past six years in Saint Marc, Haiti. Dear missionary/church friends Al and Bev and their children's home located down the street are now supported through Mission 1:11. We thought, "Who knows but God what He is up to in all this?" and decided to let their team leader Jennifer McKinney know about our possible moving plans. Her first response was what we expected, "We already have a guesthouse picked out that we have been fundraising toward. Besides, I don't think your house would be big enough for what we need. However,  just out of curiosity, how big is the house?" She didn't realize the house was as big as it is because they had only visited in the entry way downstairs living area/shop room. I sent pictures. They sent two team members who happened to be in Haiti a few weeks later to do an initial run through and report to the board. A few weeks later some of the board came and stayed with us to try it out and discuss further. The price was below their budget and the other guesthouse they had hoped to get was still out of reach price wise. After much prayer they believed that at least for the time being this was a door that God had opened for Mission 1:11 too. We offered to sell them our power and water set up as well as the downstairs guesthouse items and heavier upstairs items like kitchen appliances and beds to make their move in and our move out transition as convenient and cost effective as possible. They were delighted and thankful as we were for this sweet provision for both of us. We honestly warned them about the stubborn lack of logic and fairness of the house owner they would need to deal with as well as getting needed repairs and unfinished jobs we never could manage or afford completed. Getting things done in Haiti is never easy. But we are so thankful for the whispers of the Holy Spirit and everyone who listened and chose to move along with us in this process. We are in awe of God's goodness, direction and provision both to meet the desires of our hearts and bless multiple ministries for His glory.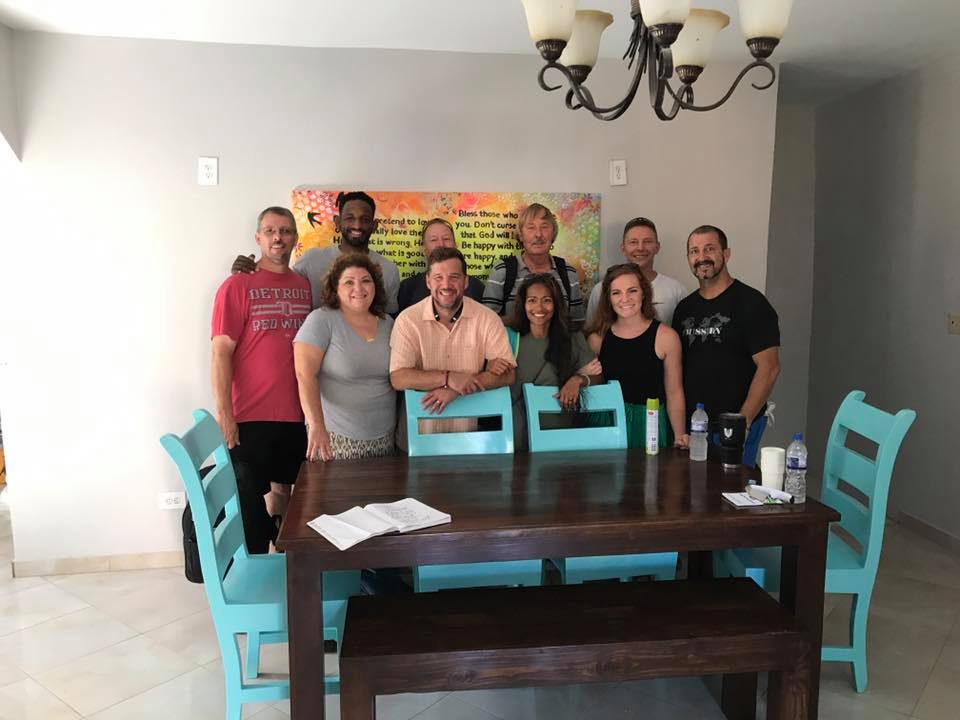 One thing we dreaded about this move was figuring out how to get adequate power and water set up at the new house. We are completely off the grid and have to provide these things ourselves. If you have been following our Haiti journey for at least four years you might remember that we lived without the conveniences of ample electricity (meaning even to run a fan, light, or refrigerator) or running water for almost three years. Even after we acquired a generator, the way the house was wired still broke down our  kitchen appliances, water pump and computers as well as the generator and inverter we had to spend another $4,000 repairing or replacing. A team from our dear Bethany Ministries church visited us in January 2016 with a retired physicist named, Jon Holmes, in the group. He took it upon himself to note all the incredibly ridiculous and dangerous ways our power was set up and let us know. We told him we had done everything we could to get it set up well using the available resources and people of know how in Haiti. We didn't know what else to do to make it better but were certainly open to suggestions. Jon went back home to Florida and went to work on his suggestions researching how to accomplish this task. He came back by himself (along with a suitcase of researched purchases he hoped would fix the issues) in October 2016. That was the same week Hurricane Matthew struck Haiti, but Jon managed to finish the seemingly impossible task in the midst of the hurricane hitting and other pressing jobs for Haitian neighbors. Jon's research and hard work was a tremendous blessing to us. Nothing ever broke again. We felt confident that we were selling Mission 1:11 Jon's great setup that would be hard to come by otherwise. However, we didn't feel so confident about leaving that great setup. We begged and prayed and begged again for Jon to come back to Haiti and help us get power and water working at the new house. We promised him that with the money we sold our old set up for, we would purchase whatever he requested to make this as easy as possible if he would just come. He did not want to due to the timing. We didn't blame him. Setting up an all wired wrong house in the heat of Haiti in the midst of a large and loud moving family does not exactly equate to a pleasant experience. It had not been immensely pleasant his previous trips (Zika, hurricanes and more than a little sweat) even without the moving piece. But we continued to beg as the moving date got closer. Despite his better judgment (and the fact that he had already done this for us the year prior), Jon relented and came. A mercy to us that cannot be repaid. As if this wasn't enough, Jon managed to surprise us with extra gizmos (like special easy switches, water pressure, automatic propane switchers, and even wiring for future air conditioning installments gasp) to make life a bit easier. Because of God's gift of Jon (and his dear wife Jan allowing him to come) we only went a few days without power once we moved into the new house! We are now under the impression we have one of the best off the grid power systems there is!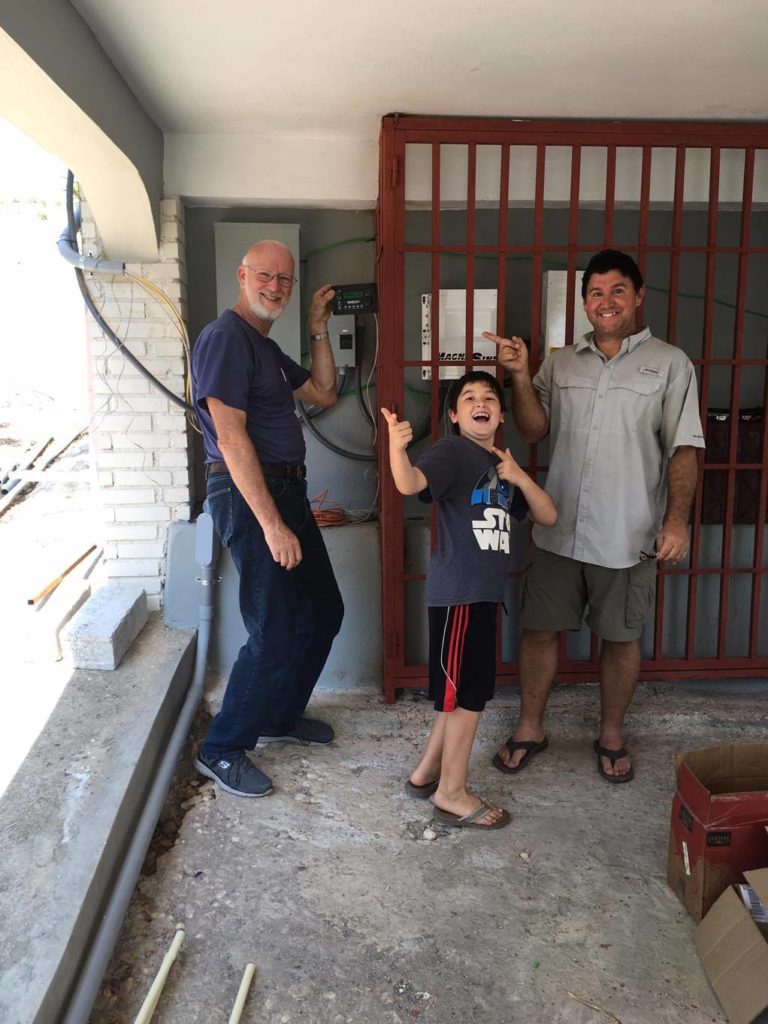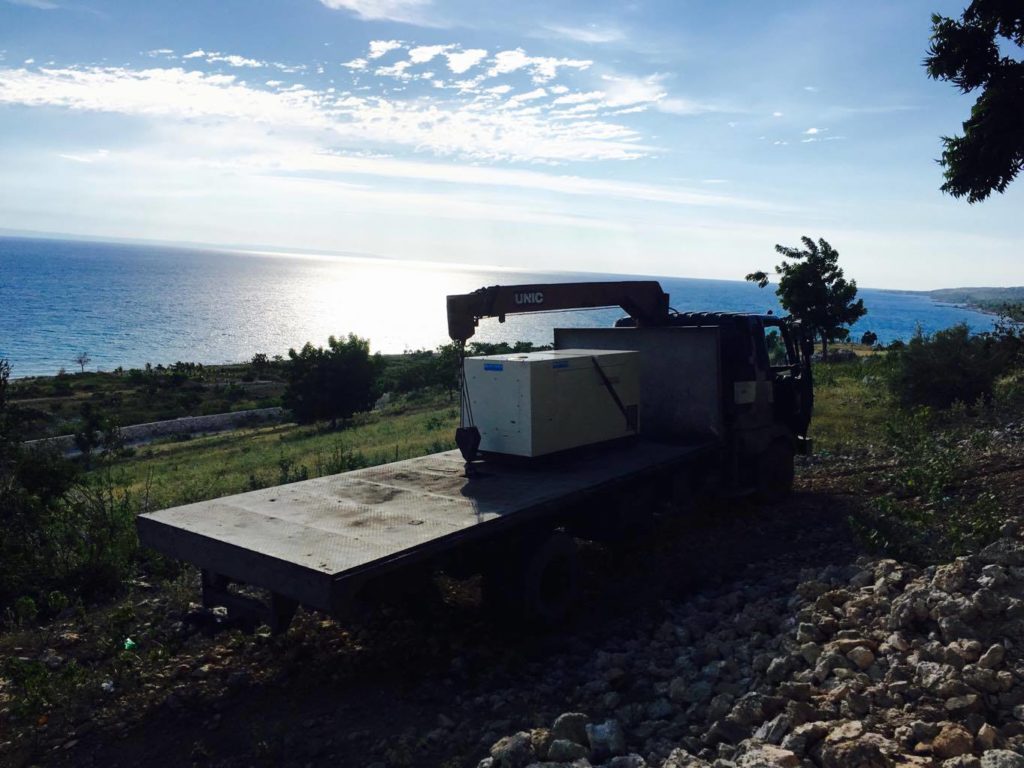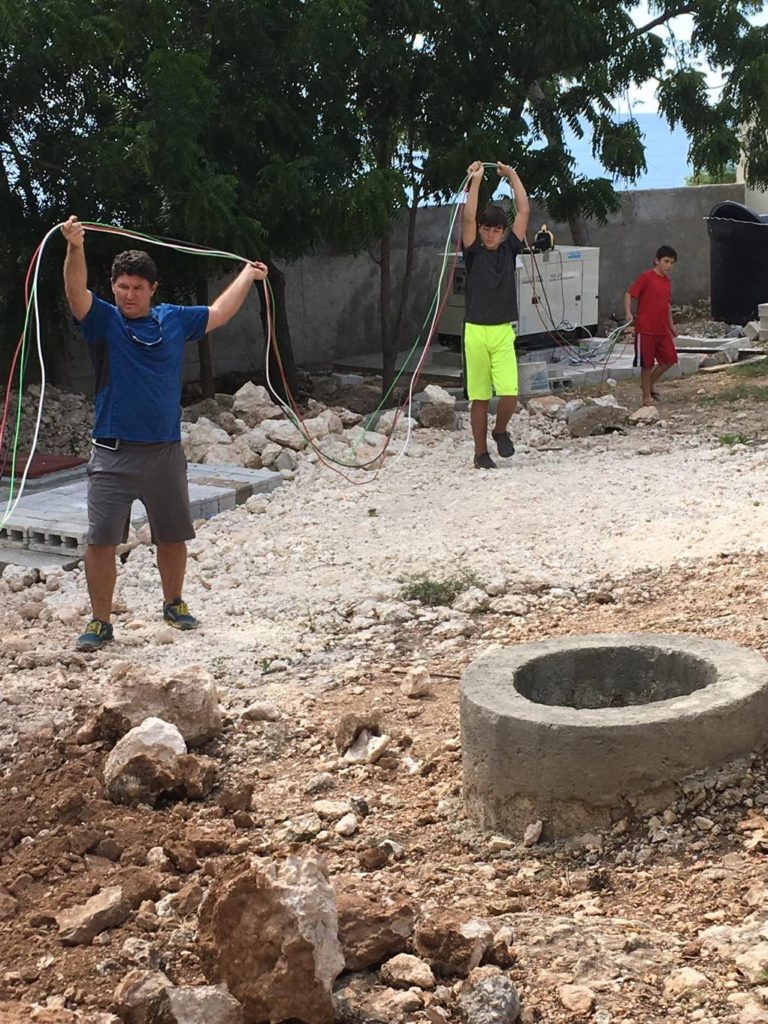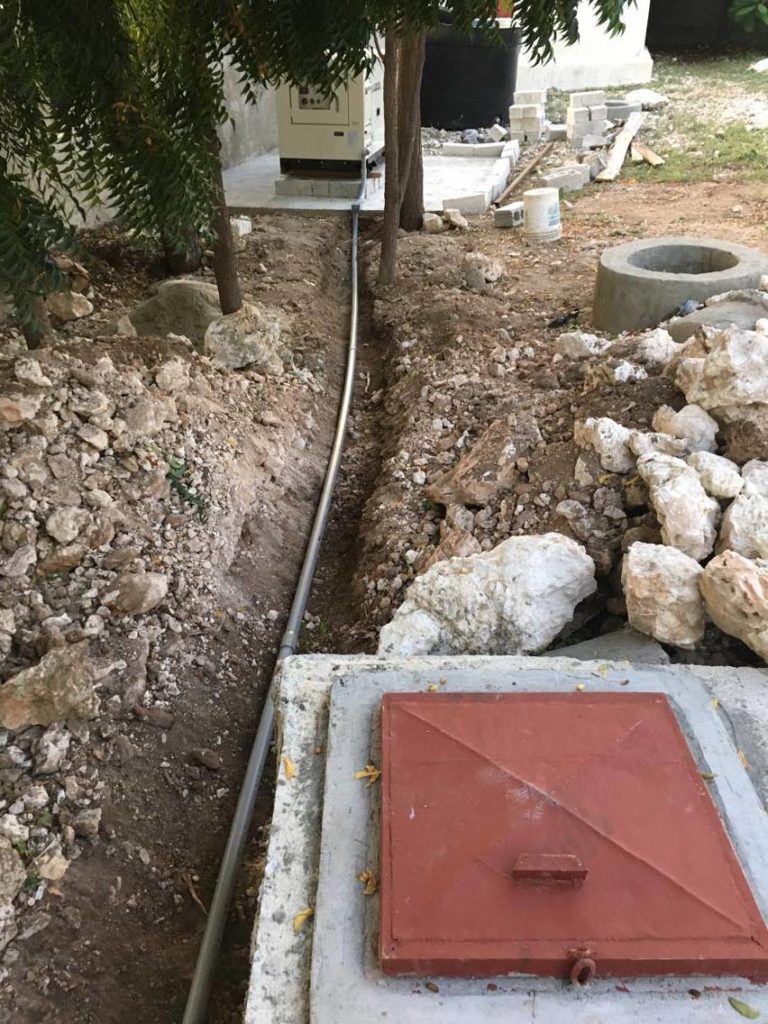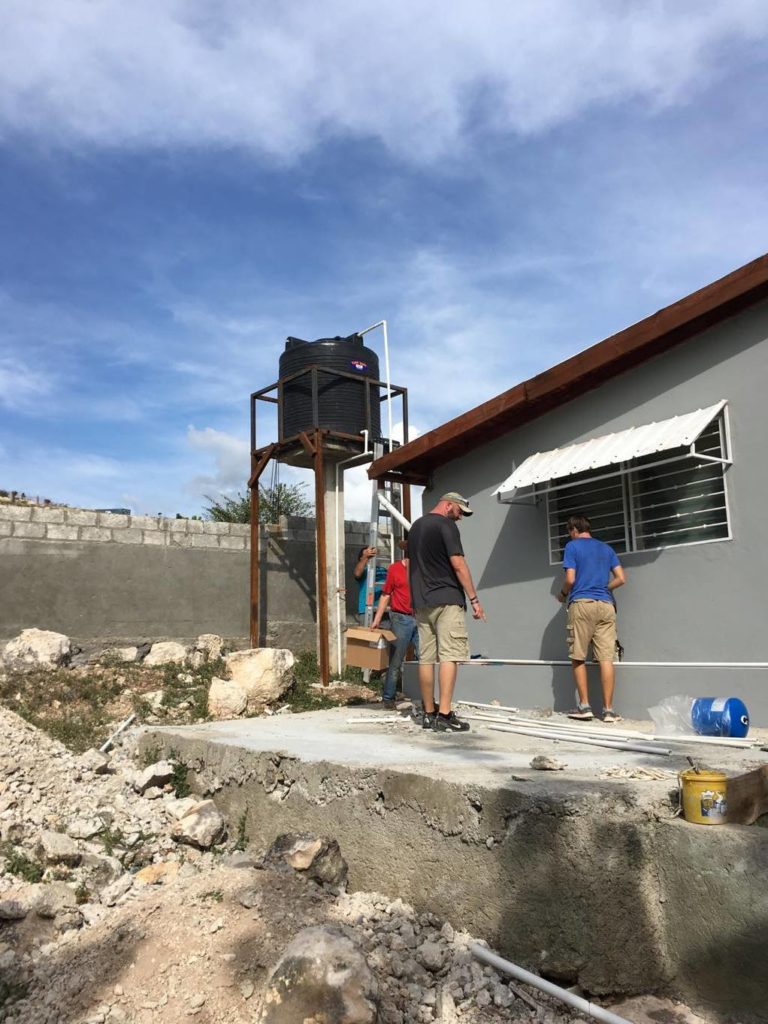 All this construction and the managing of running these set ups is part of Haiti daily life. We don't like the amount of time these things require but have come to accept that this is just part of doing life here. Vehicle management and repair is another undesirable but necessary task to getting other tasks accomplished. Did I mentioned our vehicle was not drivable forty percent of the past year? This made getting around pretty tough. We rebuilt the motor and purchased many other parts without any guarantee that would make it run. When we left for our stateside and Israel summer trips our only vehicle was still sitting at the mechanic shop. We felt it was worth the thousands we spent trying to fix it, but also knew it wouldn't be super reliable for much longer as our only transportation. There is no local transportation option where we moved to so we would be stuck even more if we didn't have personal transportation. We desperately needed a second car. This summer we were visiting at the home of extended family and sharing about our summer plans which included the hope of purchasing and shipping a vehicle from Florida to Haiti. Over the course of the summer this family decided to bless us immensely with the donation of their personal Nissan Armada they had cared for well. It is twelve years old and has a few too many miles, but looks just about brand new! A large enough vehicle with four wheel drive were must haves and this vehicle is perfect for us! We have adjusted a few things to make it Haiti road worthy and Haiti has already given her a run for her money, but we are super thankful! We were told her former name was "Edna", but after modifying her for Haiti, we have lovingly dubbed her, "The Vaughan", after the family who blessed us with this surprise gift! The word that sounds the same as "Vaughan" in Haitian Creole means "the wind". We pray she keeps on blowing through Haiti to accomplish all God has prepared for us! It can also mean another kind of stinky wind which we use for the times she isn't being nice to us. Because we have to find ways to keep smiling during the many hours spent on the side of a Haitian highway.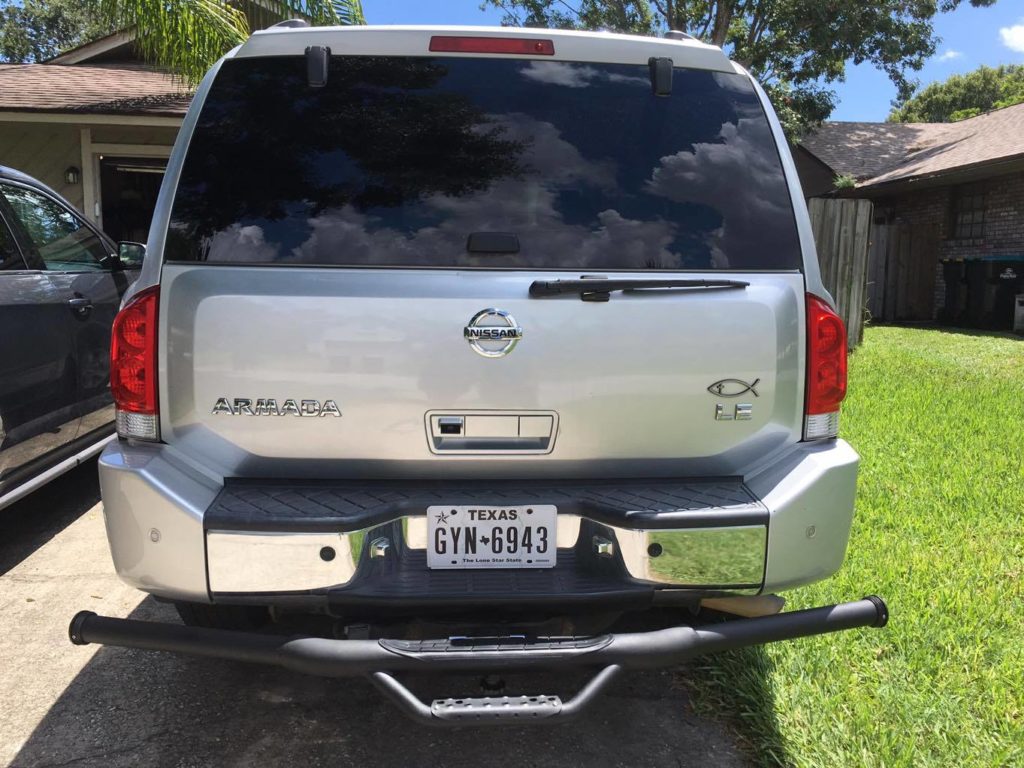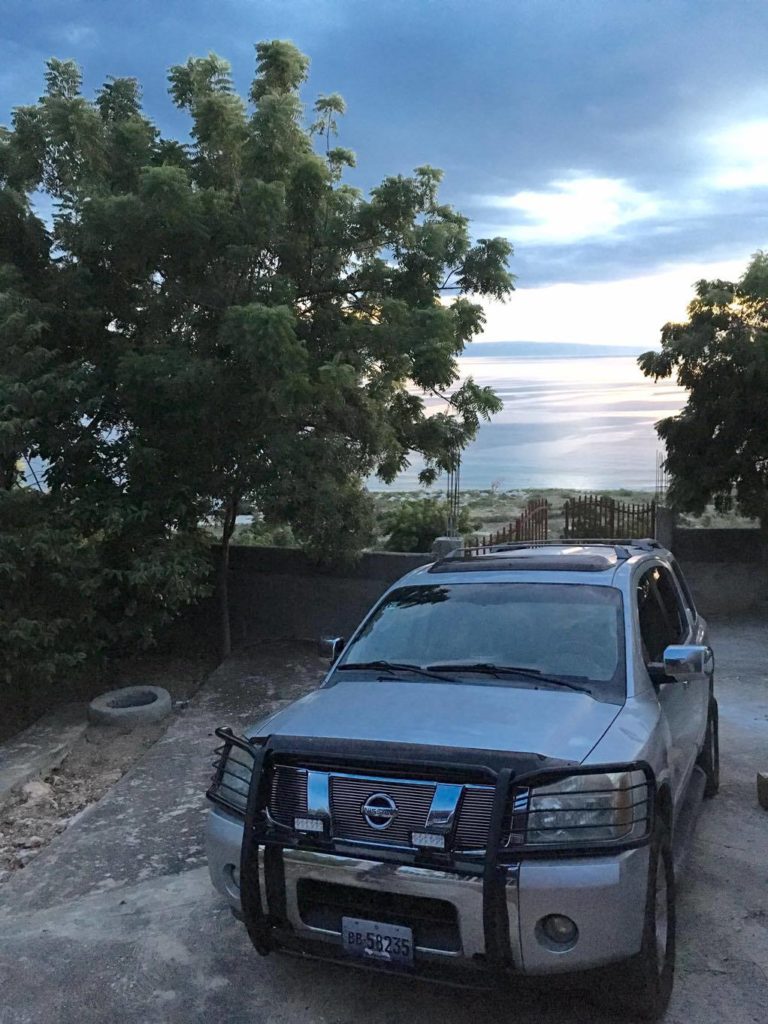 Our Ford Everest that has been all over Haiti and seen better days might be on its last leg. We are using it sparingly while praying about getting another vehicle or at least a motorcycle eventually in the hopes that we will be able to rotate one working vehicle at all times. Fact: Haiti is extremely hard on vehicles. And people. Having a vehicle at all is a luxury we don't take for granted. The next surprise reminds us of that.
When we shipped "The Vaughan" to Haiti she didn't make the journey solo. Our friends at Bethany Ministries in Florida (close to where we needed to ship our vehicle to Haiti) told us that a smaller car had been donated and asked if we could use it. While this vehicle wouldn't make it up the hill to our house, we knew it would be a great fit for the tight space driving of Port au Prince where our friends and KOFAEL ministry partners live. We knew the Osier family could definitely use a vehicle, but didn't know how hard they had been praying for one. We didn't tell them about it and decided to surprise them. After the vehicles arrived in Haiti and while we were just waiting for customs and paperwork to be completed, Frantz wrote to us very discouraged. He said, "Do you think it would be ok to ask some friends in the states to help raise money for a vehicle? We have been praying for one for a very long time. It is so far and so dangerous to take my little daughter to school on a rented moto taxi and running the necessary errands for work, ministry and family to be able to function is getting more and more difficult. Sometimes it is impossible." I asked Frantz to keep praying and wait for God's answer in the next two weeks (the amount of time I knew it might be until his surprise was out of customs). I also told him that even if God was to answer his prayer for a vehicle he would need to learn how to drive first. I reminded him that I had been a passenger in his go-cart (at an amusement park in Florida after a missions conference we were at together) and how he almost killed us both. He said, "Ok. I will keep praying and wait. But I did get my license and have been taking a driving course in Port au Prince the past month. I only have one more month to finish the course and I know it will take longer than that to get a vehicle." I asked him why he had started taking a driving class when he didn't have a vehicle. He said, "Because I believe that maybe if I took that step of faith to learn how to drive in Port au Prince then I would be ready if God decided to answer our prayers for a vehicle." This response made me tear up especially knowing what I knew about his answered prayer already sitting in the shipping yard in Haiti. God is so very good. He is good when He answers our prayers and when He makes us wait for the answers. Mission 1:11 got to be part of the surprise as the vehicle was still parked outside our old house. Frantz had no idea when we asked him to come to check on the Saint Marc KOFAEL branch and then stay for a neighborhood street movie that there were other events planned for that night. He was overjoyed by this answer to prayer for his family! He called his wife Julienne to tell her the great news and had to put us on the phone to verify that he wasn't just joking like he likes to do. Thank you to the family who donated this vehicle and Bethany Ministries for thinking of us and all you did to get it ready for shipping. Thank you to our ministry organization, Heart of God, who helped with the rest of the shipping and customs fees too. When our vehicle broke down near Port au Prince, guess what we borrowed to get around town and get our errands accomplished? Such a great little car and super sweet surprise!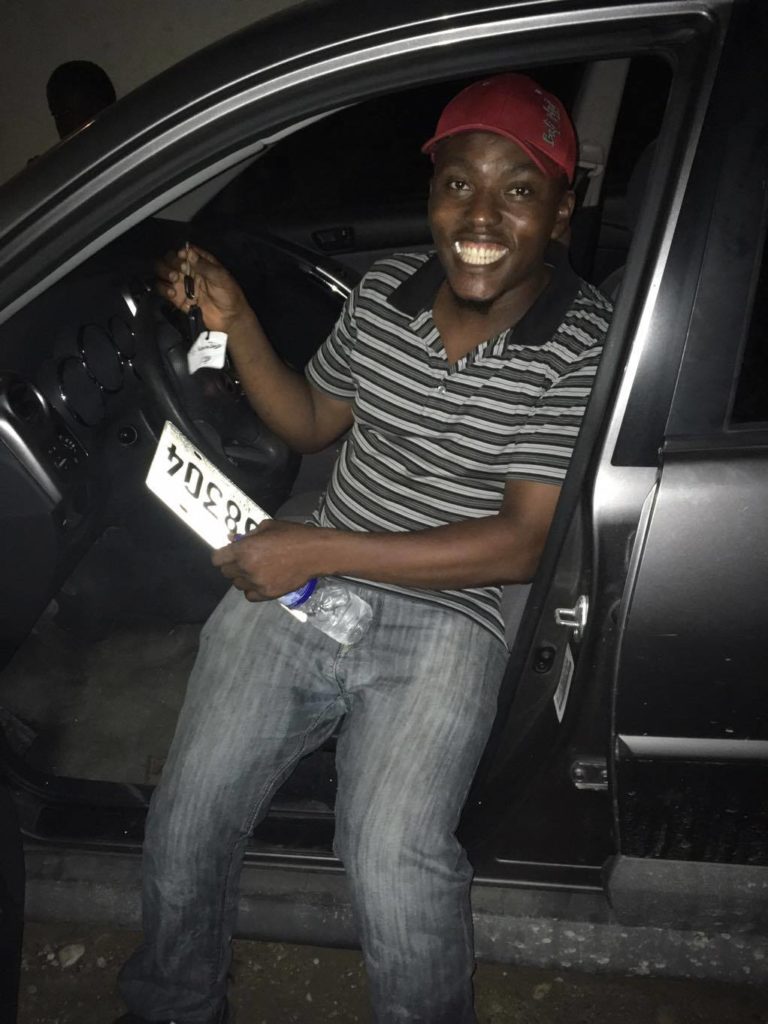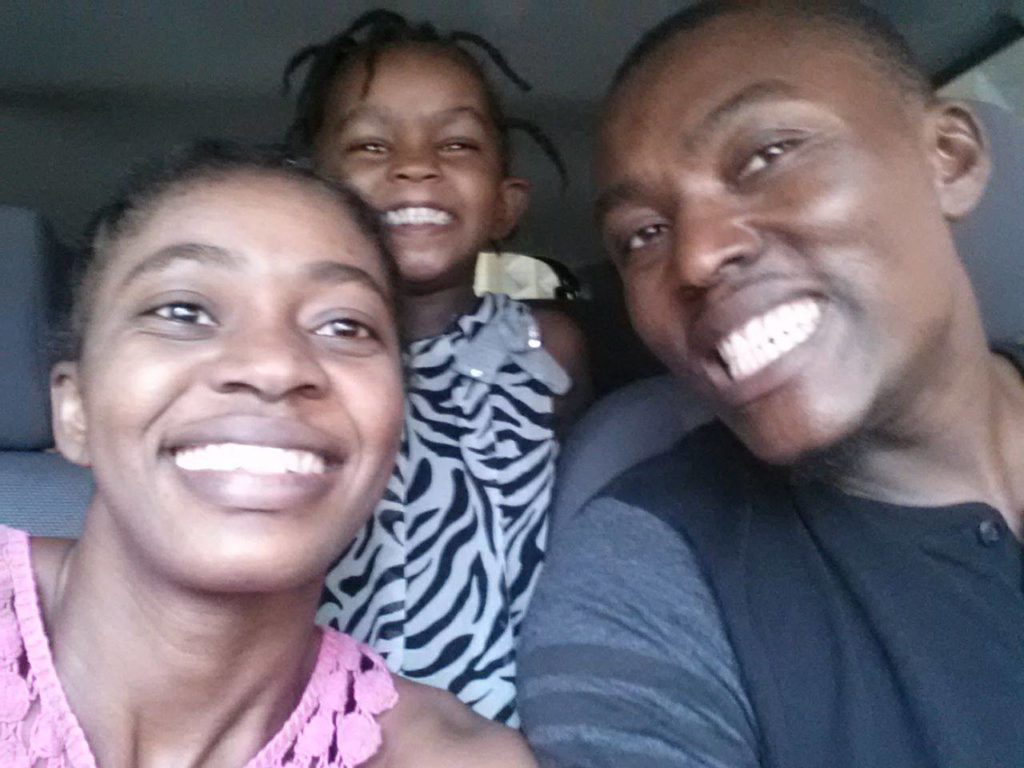 As if God hasn't already blessed us with so many surprises, He gives us the bounty of His creation to enjoy. We have the mountains behind us and the ocean in front of us as far as the eyes can see. We are excited to share these gifts with all He sends our way!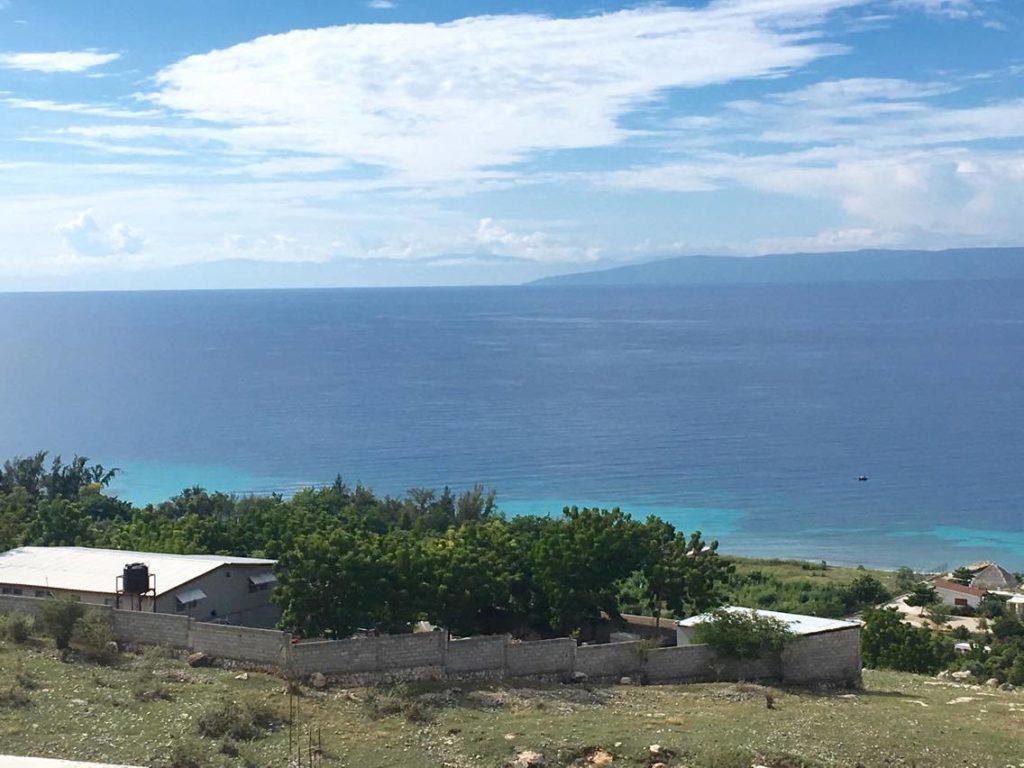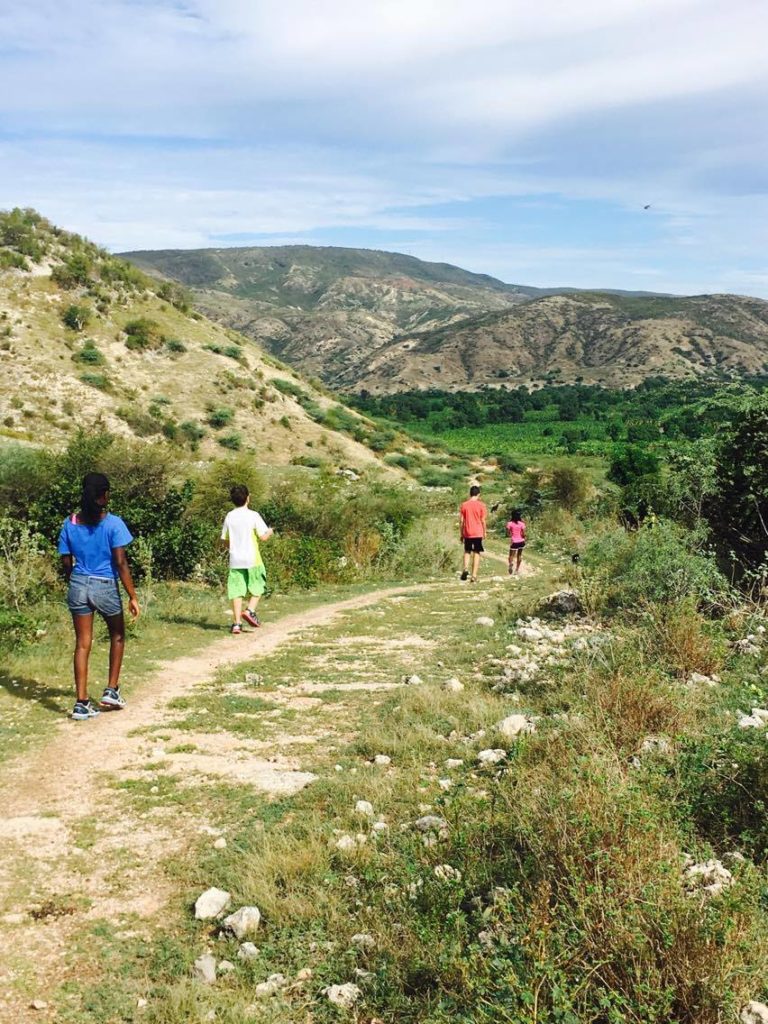 We usually head toward the ocean. But last week we decided to hike up the mountain trails in the back of our new neighborhood. What God sized surprise did we find?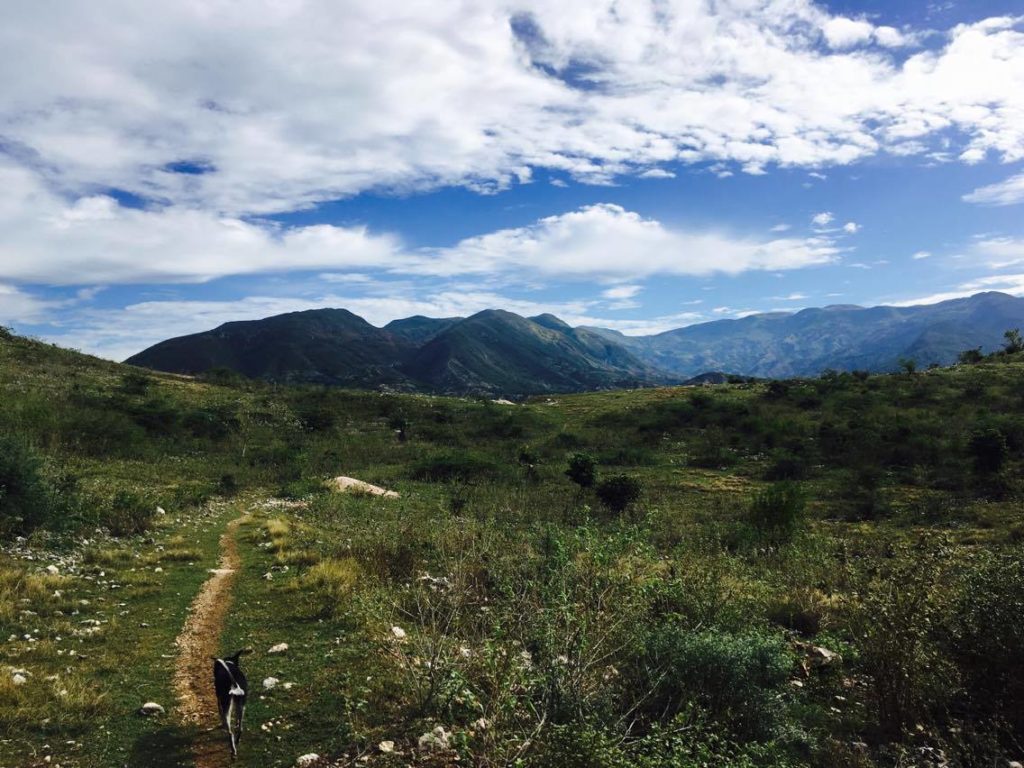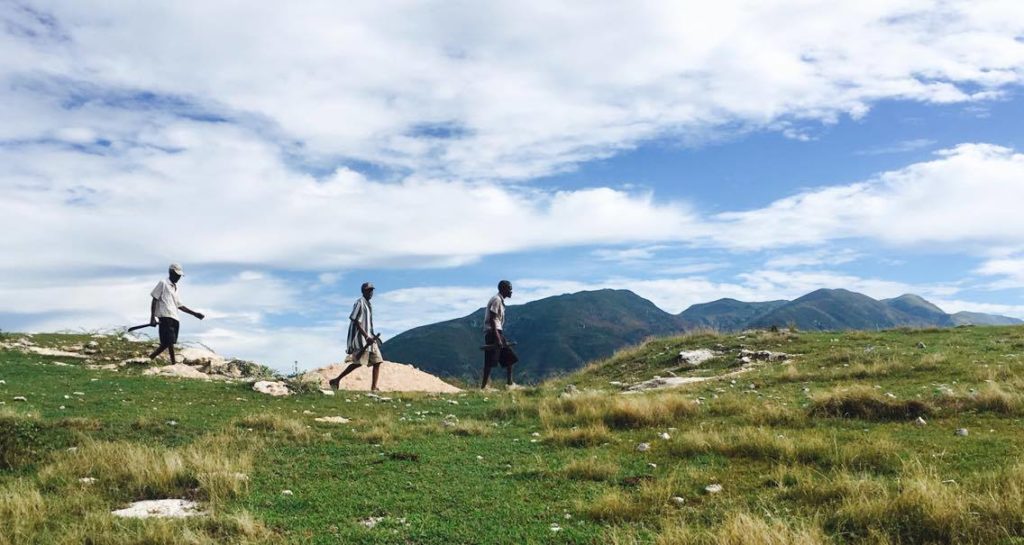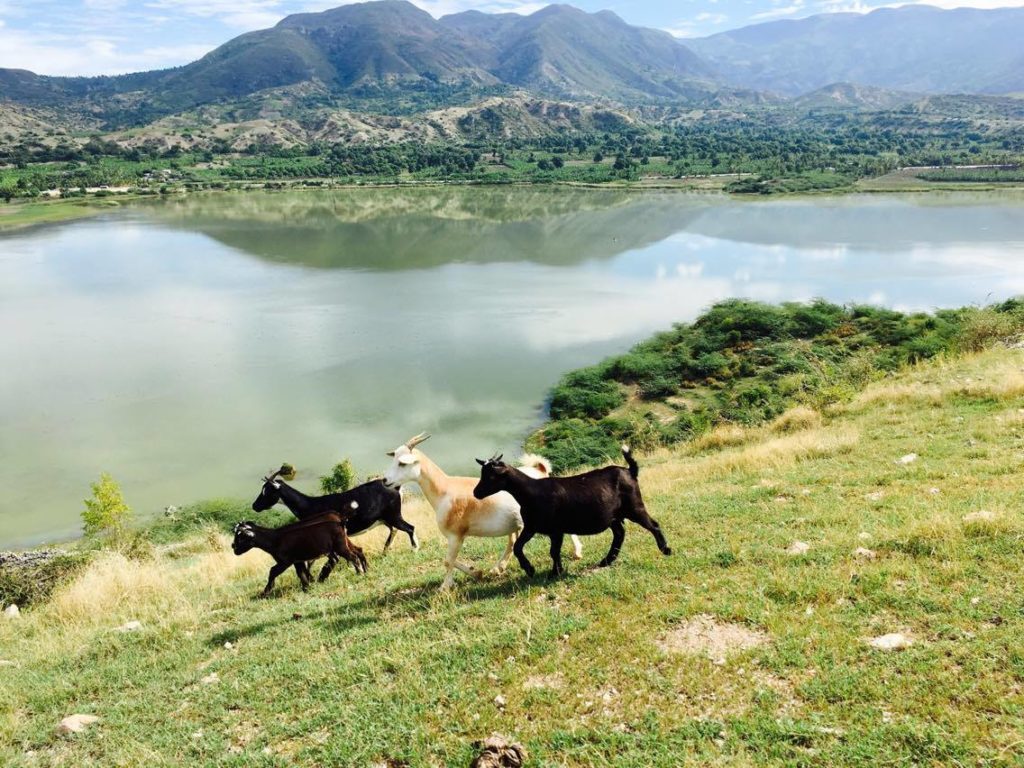 Don't you just want to come surprise us with a visit?
So teach us to number our days
that we may get a heart of wisdom.
Return, O Lord! How long?
Have pity on your servants!
Satisfy us in the morning with your steadfast love,
that we may rejoice and be glad all our days.
Make us glad for as many days as you have afflicted us, and for as many years as we have seen evil.
Let your work be shown to your servants,
and your glorious power to their children.
Let the favor of the Lord our God be upon us,
and establish the work of our hands upon us;
yes, establish the work of our hands!

Psalm 90:12-17

Rejoicing in these surprises,

Elisabeth