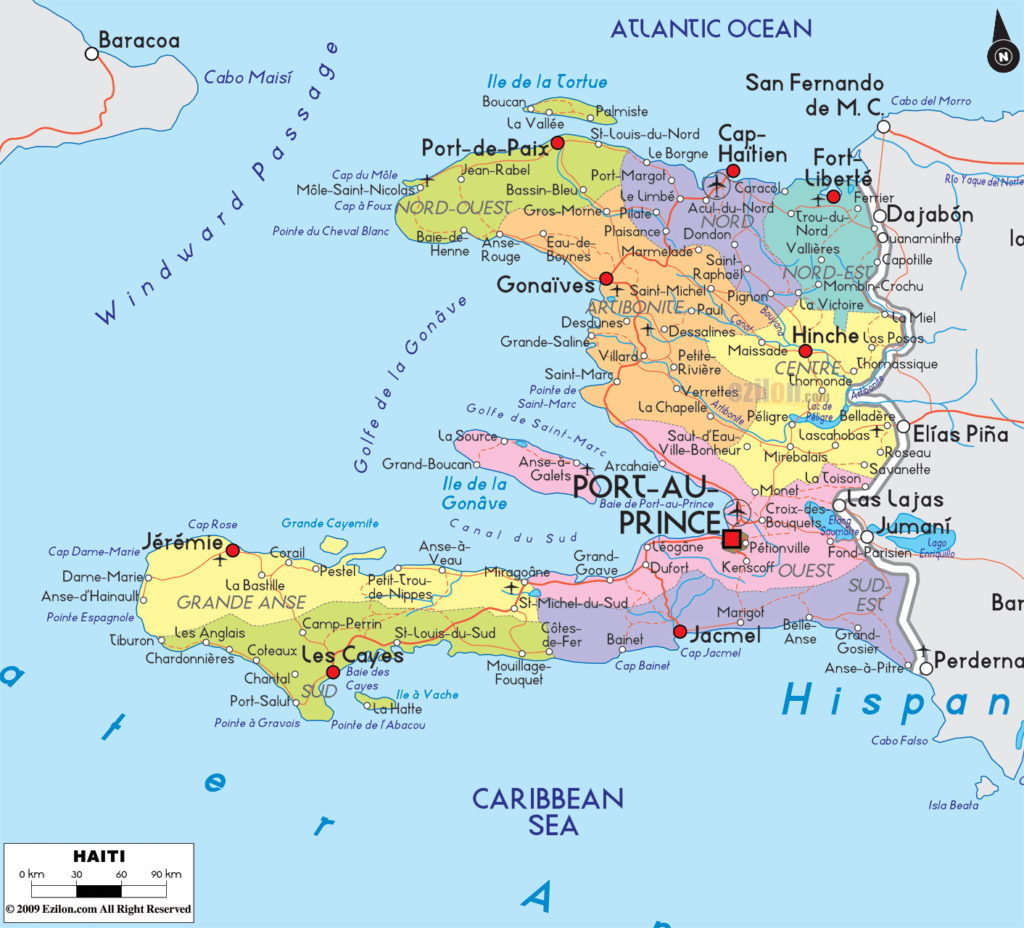 Warning! Warning! "Siklòn ap vini!" A few days have passed since we went around our Haiti neighborhood and warned our friends and neighbors of the coming "siklon" we all are now too familiar with as Hurricane Matthew. We begged one family who live in a stick house on the side of a cliff overlooking the ocean to please store their belongings at a nearby neighbor's concrete house and come shelter at our home with us. We and other missionary friends in our area and all over Haiti prepared ourselves, helped others prepare, warned and warned again and waited. The wait was long and hard as Matthew took his time in coming. We thought about Noah's long wait and warnings for people to get themselves in gear and get on the ark. How in the world did he handle that for that long? The waiting became more than just heightened anxiety because it caused many to not heed warnings as they assumed the sunny skies and slight joke of a rain that had fallen earlier in the day meant the siklòn was no longer a threat. They must not have been receiving the every other minute messages of weather news reports for two days straight like we were! Night came and all was calm (other than our phones which were still buzzing thanks to Page Wells). Elfina and her four children had not bothered to heed the warning either. Even if her house miraculously survived, we did not want to risk the baby who has hydrocephalus getting wet and sick before his long awaited life saving surgery scheduled this next week. Eric drove up to their house and woke them up. He would not take no for an answer and carried little bare bottoms to the car secretly hoping they would hold their pee. They stayed with us for two days and we had a great time sheltering them from the storm.  We read the Jesus Storybook Bible in Creole, prayed together, let them try pizza for the first time, the kids played with our kids toys and just rode out the storm under a dry roof. We are thankful to have had that time with this sweet family while safe in our home and have the chance to talk about the warnings God gives. Are we listening?
Elfinas's house made of sticks and banana leaves miraculously survived the storm.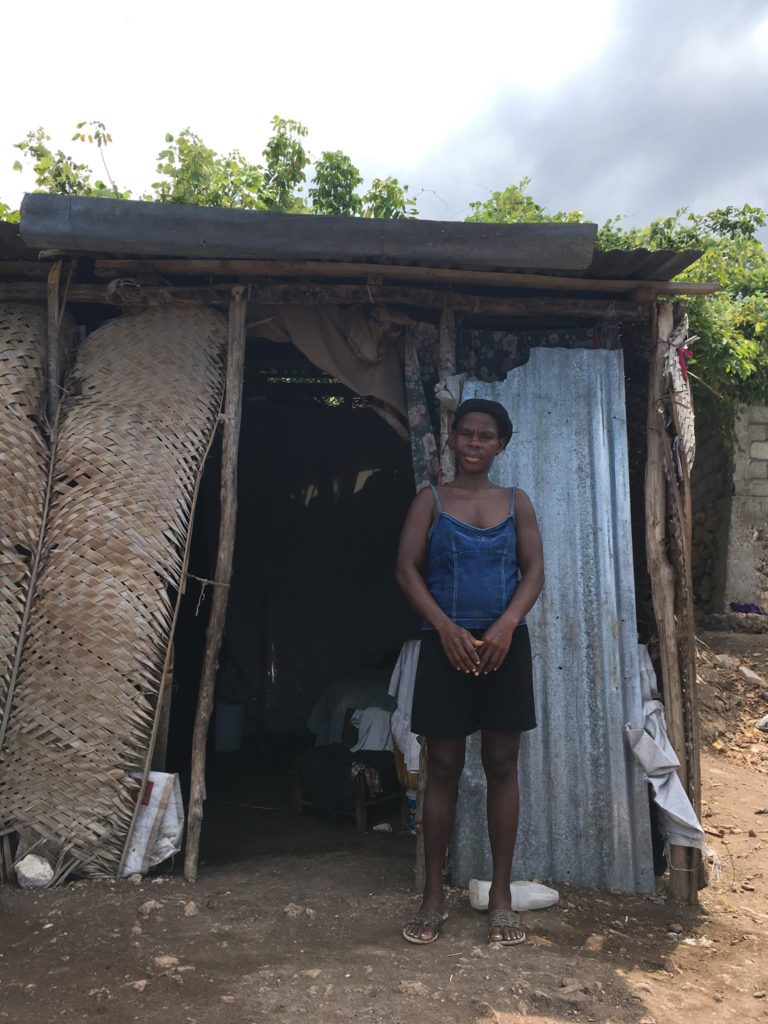 Sixteen other houses in our neighborhood did not survive so well. We are personally trying to assist with four homes in our village as we know the people personally that live there. Elfina's house is one of those. Moise's house is another. Moise is the friendliest fisherman you will ever meet. He also raises donkeys, goats, and children inside his house. His wife always greets us with a smile and a kiss. His son Romeus works for our friends and ministry partners the Carroll Crew. Romeus stopped by our house a few hours before Matthew hit. We warned him to please take shelter (not at their house) once again and gave him some peanut butter and money to buy bread and water to have a little something to ride out the storm. We are so thankful their lives were spared, even if their house was not.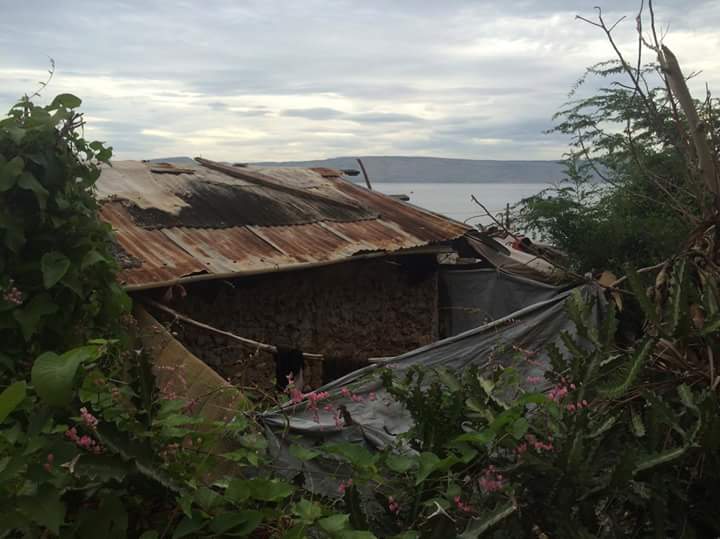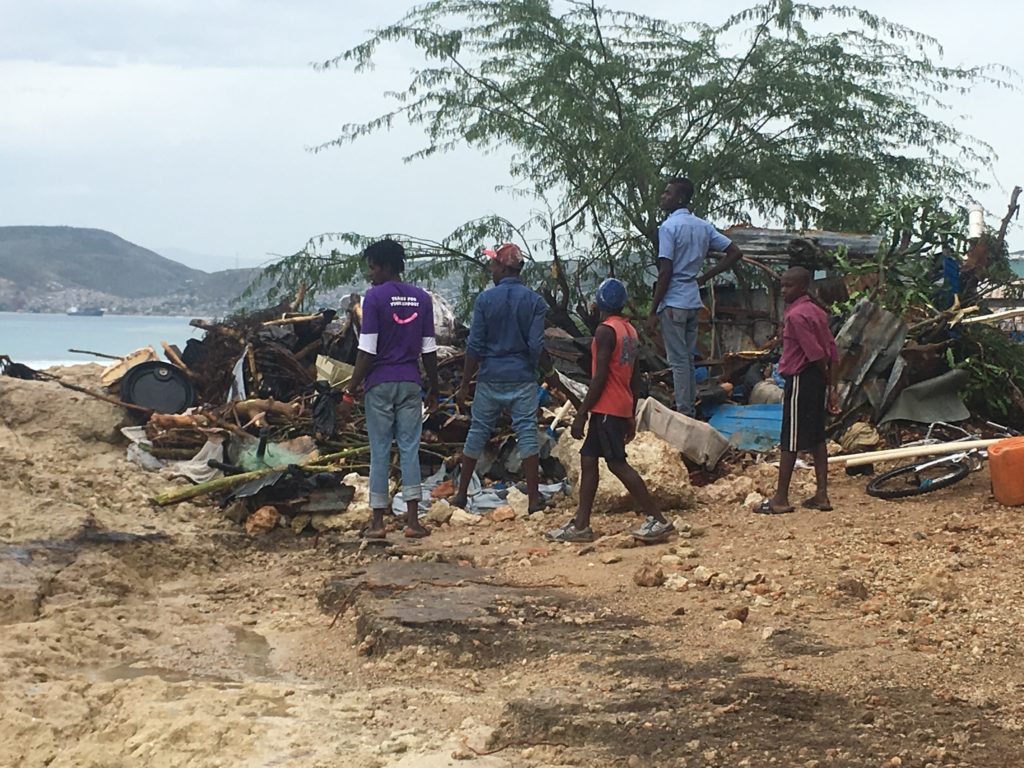 This is the home of Madame Jean Baptiste and her six children. Three of the children are in our school sponsorship program and come to our house almost daily. The family has taken shelter at a nearby school that opened its doors when three walls of their four wall, one room house collapsed during the storm.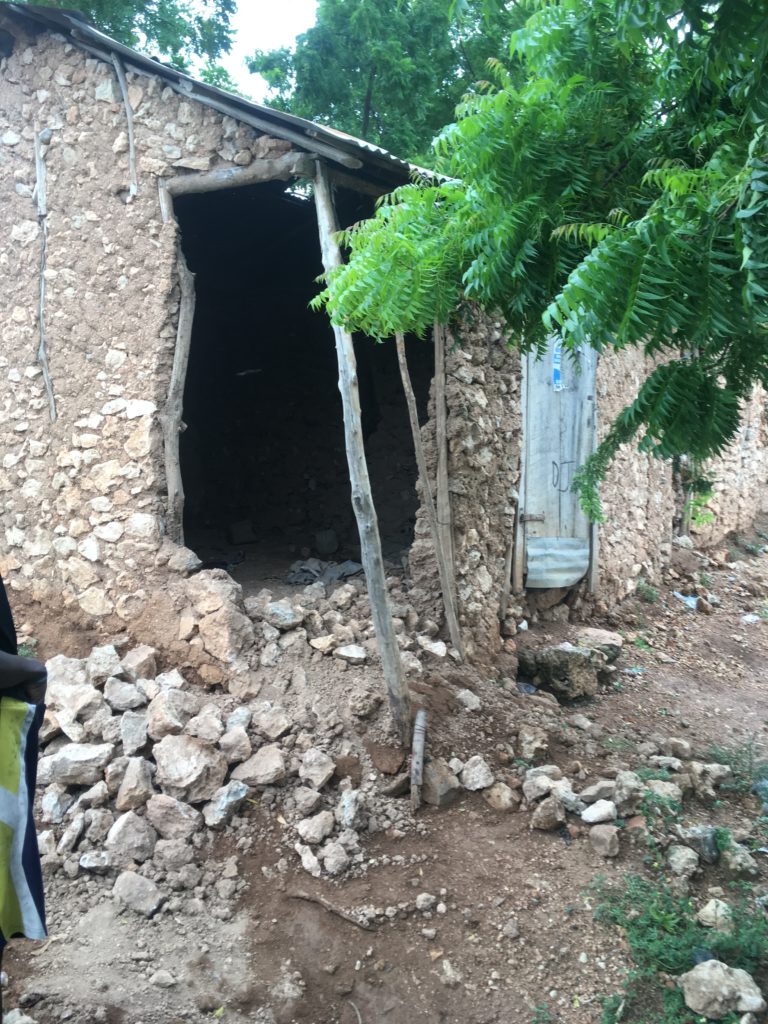 Miré is always kind to us when we pass by. We do not know her very well yet but she is our neighbor and lives close to others we do know who love her. The rock wall of her home disintegrated with the fierce winds Hurricane Matthew blew her way. We would like to help her rebuild her house while also building a relationship.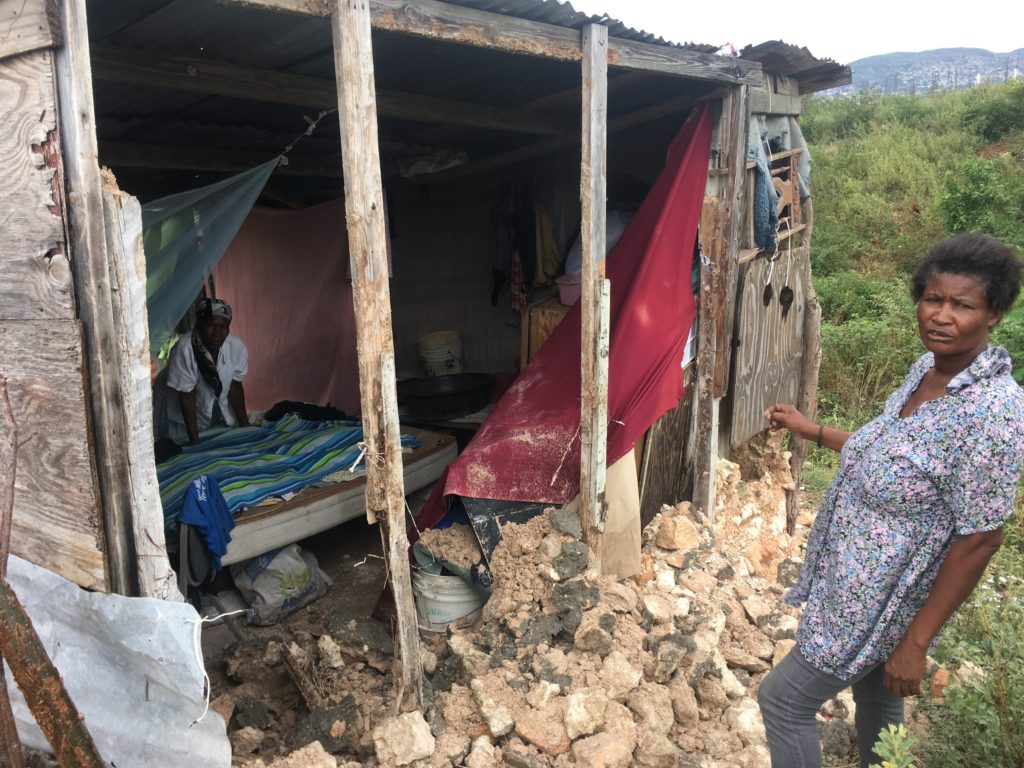 And one more little thing.
Eric and our friend Jon who has been here helping us immensely the past week went over to help little Marie's family prepare their home for the hurricane. Marie has never had a door. They boarded things up as best as they could but a door is still needed for their one room home. Little Marie was one of our medical patients last year who stole Eric's heart in the process of having her tonsils removed.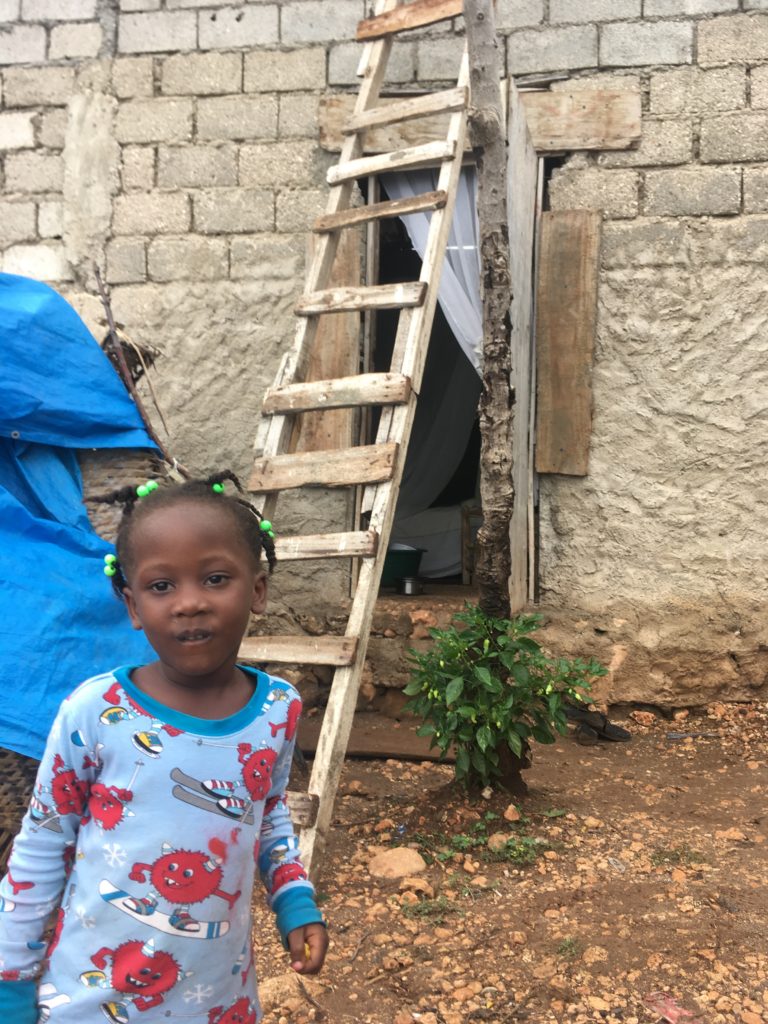 Our little community might look wretched to some. Yet, we are truly counting our blessings that our town of Saint Marc was spared the brunt of the storm. Our hearts are breaking for those on the other side of Haiti who have lost literally everything. Rebuilding walls is something that can be done with help. We don't need people to come or much aid at all. We know Haitians in our own community who can easily handle this labor. Some have even volunteered to help oversee these projects because they care about their community. Fixing up our neighborhood is not going to be hard.
However…
Civil aviation authorities say more than 3,200 homes have been destroyed along Haiti's southern peninsula, where many families live in shacks.  The Haiti government has estimated at least 350,000 people need some kind of assistance after the disaster.
It isn't just the people that live in shacks though. We came across a picture tonight taken by a missionary pilot flying over Port Salut after Hurricane Matthew hit this southern area hard. His picture stood out to us because we have been there. We stayed at this hotel just a few months ago with our family while traveling through this once beautiful part of Haiti. We took pictures to remember it so we could go there again someday and share it with others. It looked like this.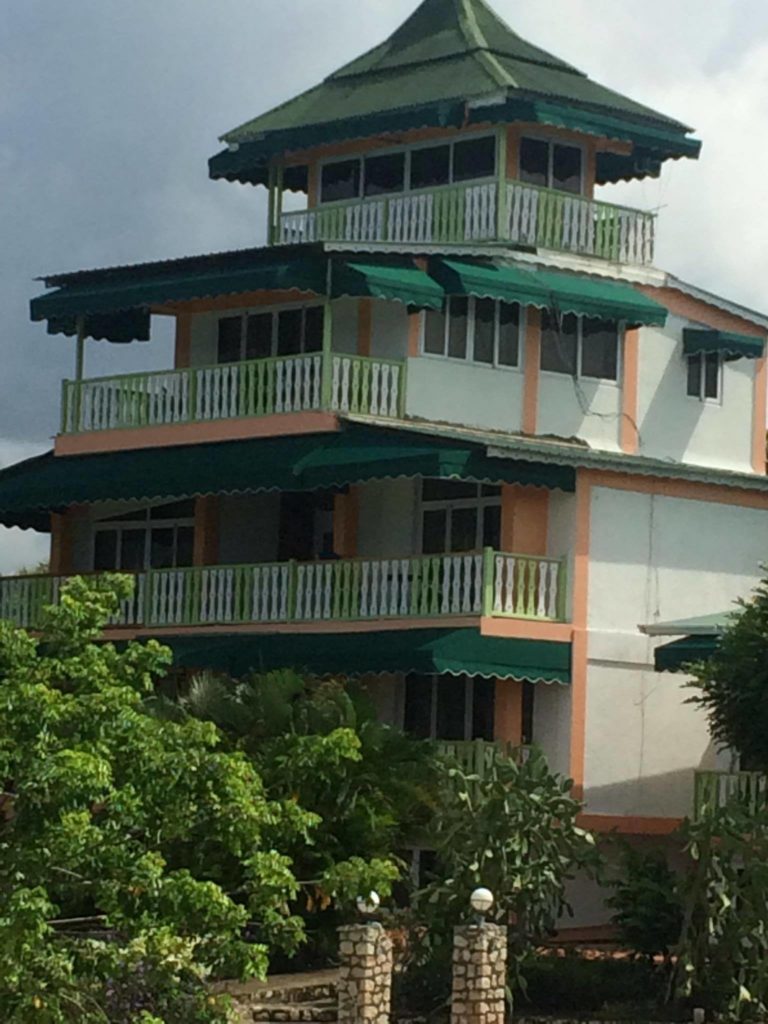 And this.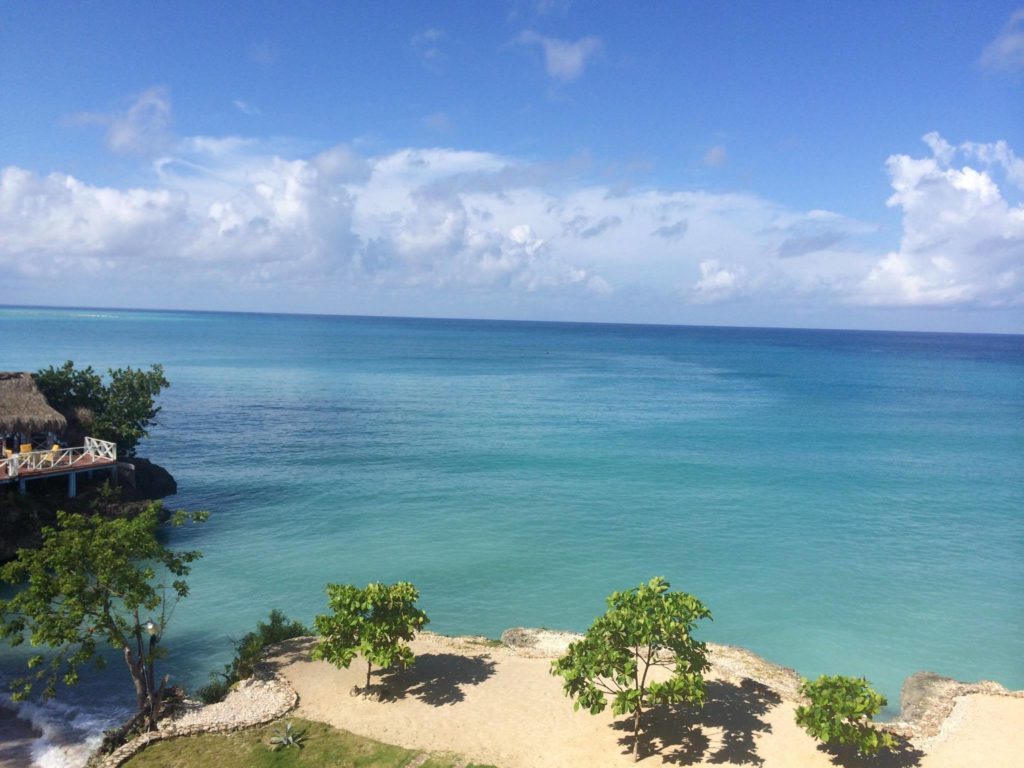 Now it looks like this.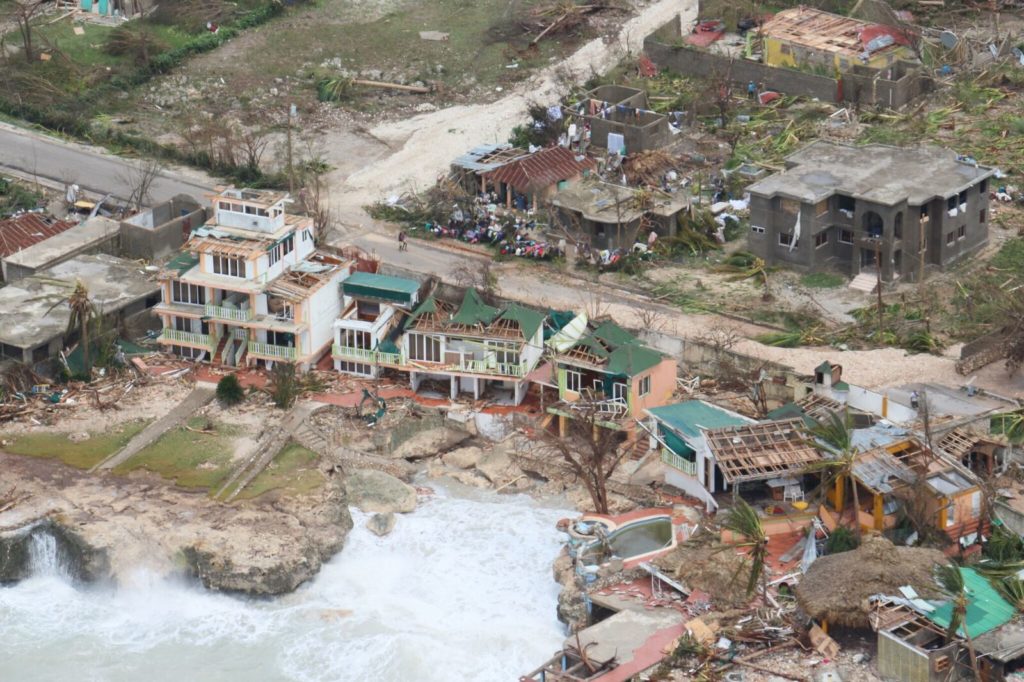 This was a fairly well built beach resort in a nice area now torn to shreds. We all know what hurricanes can do to even nice places like this.
But what about houses like this?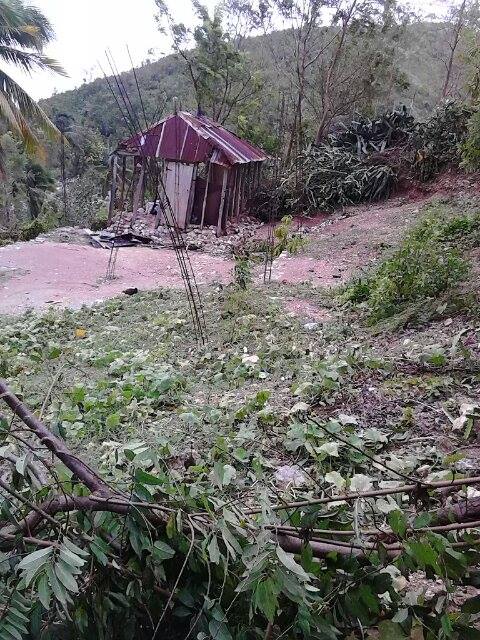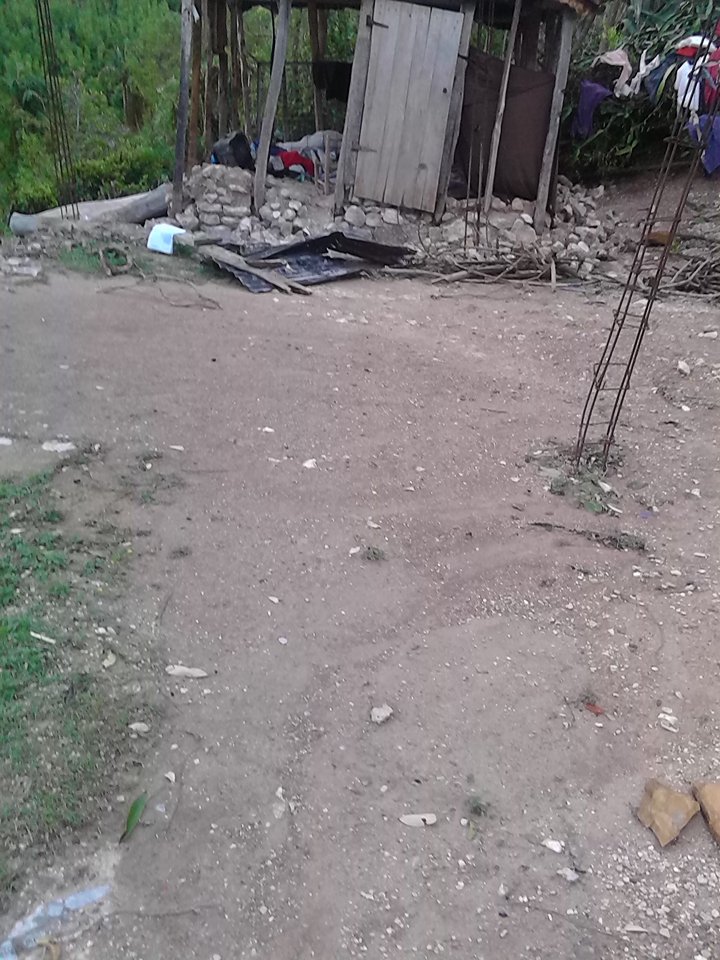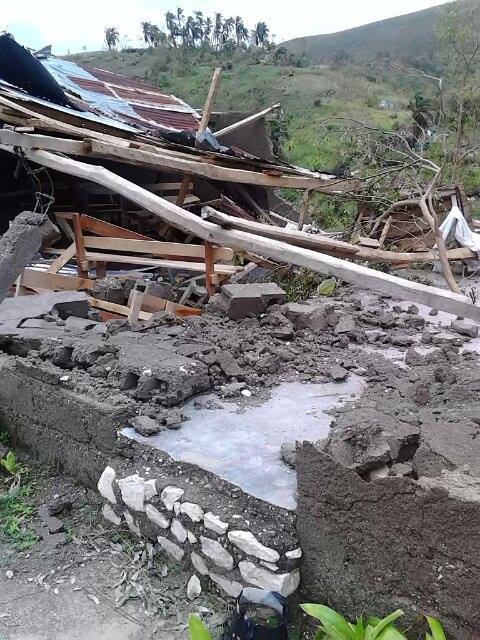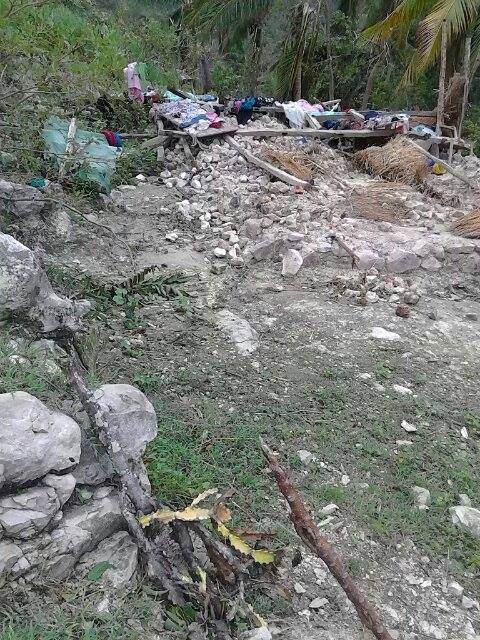 We know whose house this is. One middle aged women and her four children, her sister's pre-teen son, and their two aging relatives lived here. Eight people lived in this house. Eight people that no longer have a place to live. We know the sister well. Her name is Rosalie and that was her house.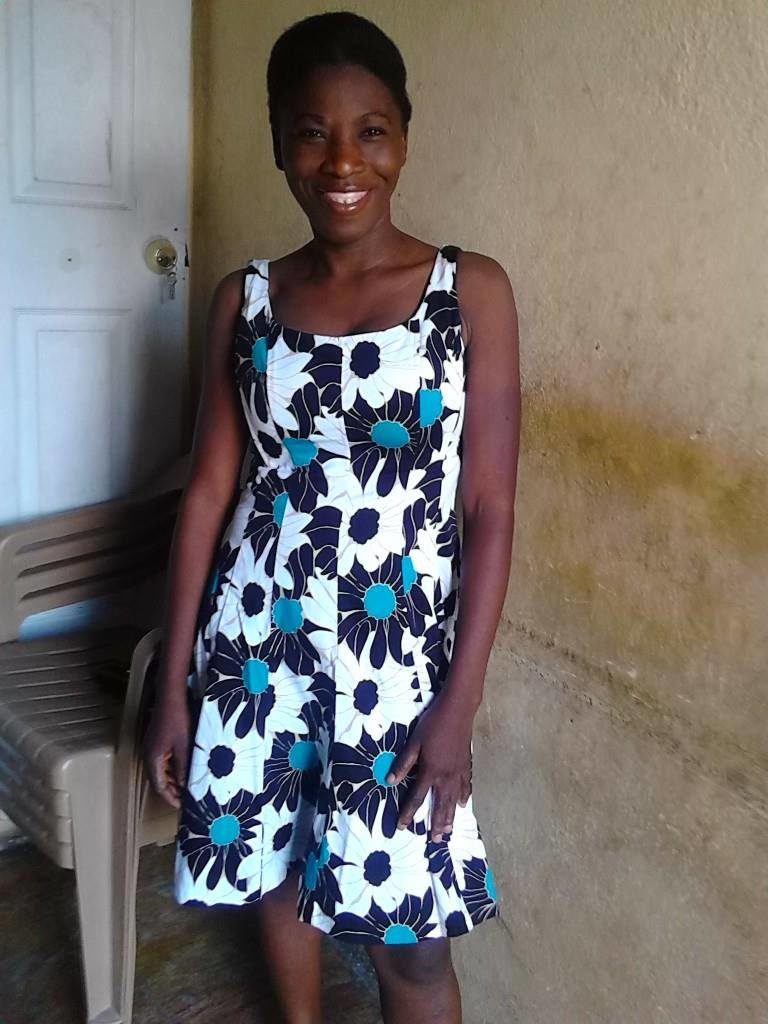 We have known Rosalie for six years. She is the hardest worker we know and a favorite of our children. She is the best at Haitian hair, cooking Haitian food in healthy ways, late night Bible study partner, sharing what she believes without reservation, fighting for justice, being stubborn, and always saying "I love you" before she hangs up the phone. Rosalie works in the capital away from her family to help make and send money to provide for them. She has worked with us in the past as well as American friends of ours. Just a few weeks ago Rosalie was visiting us in Saint Marc. We walked the neighborhood together and I watched her share her faith and personal testimony with many of my neighbors who also have now lost their homes. We have prayed for the right person to direct a new KOFAEL branch in Saint Marc and we believe that Rosalie is the person we have been praying for. She accepted this ministry position and was supposed to start working in Saint Marc this next week. Hurricane Matthew has forced her to travel to her hometown of Les Cayes to find her family instead. She has found them and thankfully they are alive and well. But what should they do? Where should they go? How can she help them? We want to help her so very much! She is a first responder. She is there communicating with us here. She is smart and can figure out what needs to be done. But we know she will need money she does not have to be able to do anything.
The number of lives lost in Haiti is rising daily. News reports will not be able to give a completely accurate account because unless bodies are positively identified they are not counted in the death toll. Many bodies are not able to be identified by the authorities releasing these statistics. More than just the loss of homes in South Haiti is the loss of livelihoods. Tonight we talked with Figaro, the young man who has lived with us for the past 6 months.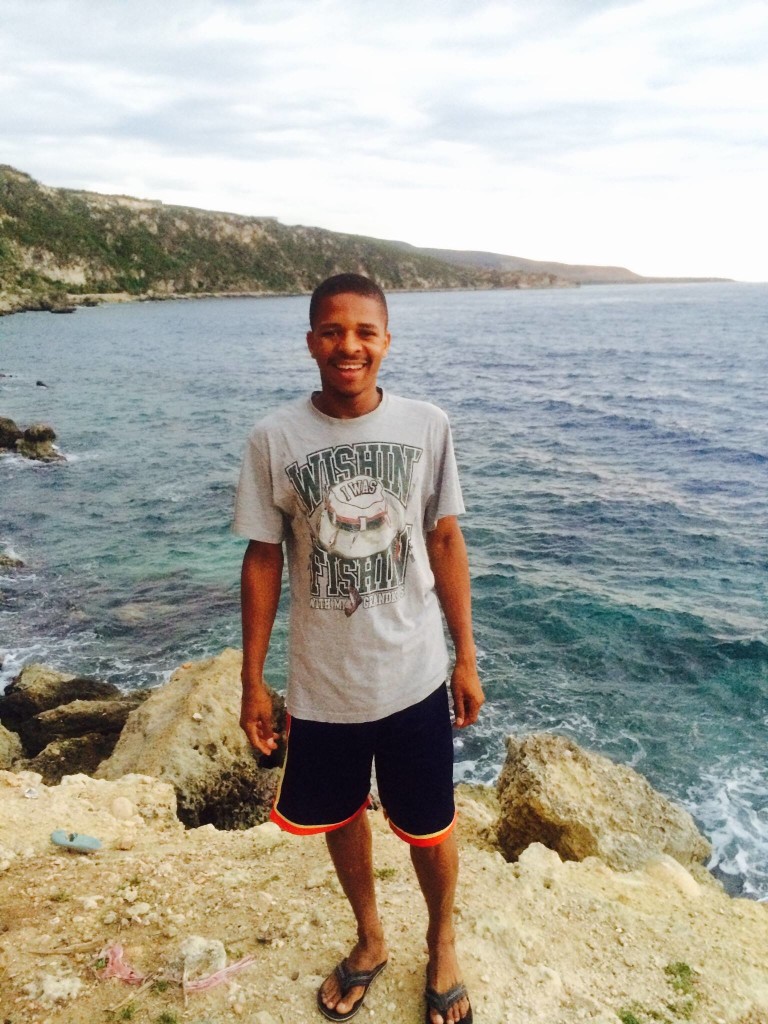 Figaro is from a rural farming village near Chantal in the mountains above Les Cayes. His parents and siblings are there. He has not talked to them yet but has heard the devastating news about his home from his sister who lives in Port au Prince and was able to contact the family. Figaro's cousin died when the wind battered the house and it fell on top of him. His childhood home where his parents live is in shambles. But it is much more than this. The following was our conversation over a bowl of rice and beans last night.
My father grew bananas and sweet potatoes and raised chickens. But now those are all gone. He was so proud of those chickens. There is no money to go to market to buy rice. The market is an hour away. Rice will soon be scarce in the market. You cannot eat bananas, plantain or chickens if you do not grow and raise them. How will they buy rice if they cannot trade bananas? How will the others pay for the children's school if they cannot trade bananas for tuition? I do not think I can convince them to come to Port au Prince or Saint Marc. No. They will not come. My mother has asthma. She cannot go that far so easily. It is expensive to travel that far. They will not leave. I know what they will do. I have not talked to them but I know because I know them. They will get the other families together and make a structure for everyone to be able to sleep. Because right now they cannot sleep but because they have had sun today and not rain they will work to make the structure. They need a place to cook when it rains. I heard that they were very hungry because even though they had some rice to cook, they could not light a fire because everything was so wet. They will make a place to sleep and a place to cook. Then they will stay there. They can plant more food but that will take time. How do you think I can help them when the food runs out? I don't know but I will go soon. I think I can leave to go there in one week.
Similar to the examples of Rosalie and Figaro's families, we have reports of seven of our dear KOFAEL ladies in Port au Prince losing their homes to the hurricane. We are waiting for more specifics on their situations from our Kofael directors/ministry partners in that area who have promised to visit these women and take some pictures so we can see how best to help them as soon as possible.
Another area we work is in the mountains of Godet where our mission supports a Haitian school and center for children. The roof of the school has been missing since Matthew blew it away. The children cannot return to school until the roof is replaced. Our ministry partner Jason Carroll and their son Cole are currently staying up in that area (six hour roundtrip from home) until this task can be accomplished. Jennifer Carroll told us today that Jason was able to secure some of the roofing supplies from another organization but they are waiting for the truck that can haul the supplies and also the funding.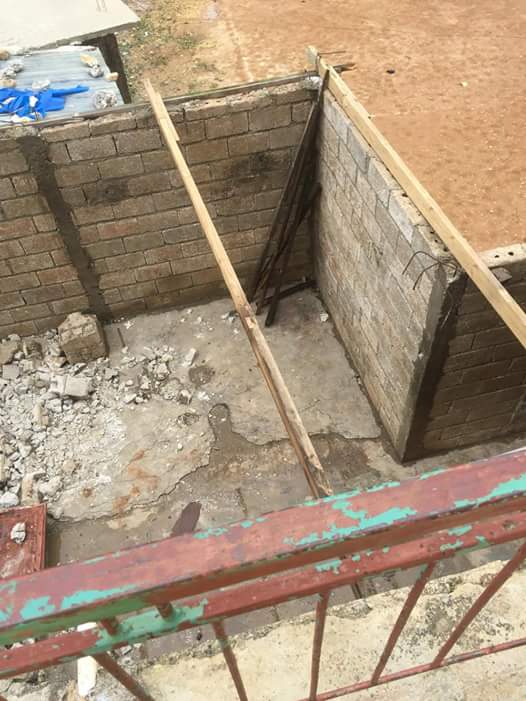 These are not just statistics for us. These are our neighbors, friends, those we serve and our own partners in ministry. There are fourteen homes and one school just among those we have mentioned. There are thousands of others. Haitians are hardworking people. They have not asked nor are they simply expecting us to help. We want to help and we want to do so in ways that will not hurt Haiti's future. We have received an overwhelming response from many of you who have prayed and supported us through the past few days. Many have said they want to help the people in Haiti, not even knowing these people personally like we do. Many of you have asked how you can help. Please continue to pray for Haiti. Pray for open doors for the gospel through the relief efforts. Pray for wisdom to know how best to help. We agree with what the U.S. Embassy in Haiti shared on best practices for disaster relief in Haiti. You can read that HERE. Tomorrow, we along with a few other missionary families in our area have a set meeting with local Haitian community leaders to discuss the best way to come together to help meet the most urgent needs. Preliminary meetings have already happened and we have a good idea of what to expect as we share this now. We are so very encouraged and proud to be a part of how the widespread Haiti community of expats, NGO's, missionaries and Haitian partners have come together over the past week! It has been amazing! Pray about giving financially to help those already on the ground meeting needs now. Personally, we cannot help everyone, but we can help some. We are sharing our "some". If you feel led to help us help them…
Please pray and consider what you are able to give to help with these immediate needs. The following are the estimates we have calculated so far.
Estimated need for a new two room house structure with a front porch = $5,000
(We are hoping to build at least two of these homes.)
Repair and reinforce walls on two homes =$2,500
Roof at Godet school =$1,000
Still to be determined:
Kofael ladies homes and food assistance (any amount will help at this time)
Rosalie's family home and food assistance (any amount will help at this time)
Figaro's family home and food assistance (any amount will help at this time)
We are estimating the total cost for building and repairs will be between $20,000-$25,000 to build and repair the majority of these homes. That is a lot of money for small organizations like ours. However, we have seen seemingly impossible things happen before and are not worried about what it will cost. We are trusting that God will supply every need and give Him glory for all He is orchestrating through this siklòn saga!
God is our refuge and strength,
an ever-present help in trouble.
Therefore we will not fear, though the earth give way
and the mountains fall into the heart of the sea,
though its waters roar and foam
and the mountains quake with their surging.
The Lord Almighty is with us;
the God of Jacob is our fortress.
Psalm 46:1-3,7