Last night I went to bed pondering answered prayers. Sometimes answered prayers seem monumental and other times they are tiny nudges reminding us that God truly cares about the little details of our daily lives. While thanking God for both the big and small petitions He has answered the past year, I prayed that we will never cease to remember all He has done for us. God has stretched us and grown our faith in ways I never could have imagined. Walking by faith and not by sight is a privilege of freedom. We are often asked if we actually like living in Haiti. We and our children always answer "yes". Then follows "why?" That is really hard to explain because our "yes" has come with experience. We experience a lot of ugly in Haiti but it comes alongside a beautiful freedom. We wish everyone could experience this freedom. But freedom always comes with a price tag. Freedom comes either after experiencing significant loss or at the expense of someone paying the price of your freedom. There are many people and things that in my heart I have felt we have lost or have been forced to let go in the past year. We gave up many things we used to feel were important when we moved to Haiti. We sacrificed many freedoms in order to give freedom to our adopted girls. We sacrificed jobs, money, friends, houses, cars, and almost everything that used to make daily life easier…not just when we moved to Haiti but as God stretched us continually after we got here. Many days I wake up and wonder how we got here. I don't want to forget. I want my children to remember how we got here. I want my children to tell these stories to their children someday. We never want to forget that Jesus paid the ultimate price for our freedom. There is nothing we will experience in this life that compares to His sacrifice for us.

Last night I thought about our family friends, the Martins, that were a source of encouragement and discipleship in our early married years (and their ministry has continued to do so). One evening after dinner at their home we noticed an interesting curio cabinet full of strange collectibles and asked them about it. They told us that this cabinet was a special memorial where they kept records of answered prayers. I remember them pulling out a miniture toy blue van. They told us about a time when they needed a larger vehicle in order to transport ministry materials and the Lord provided a blue van. Eric and I always wanted to do something like this with our family.
This idea comes from the book of Joshua as the Lord made him leader of the people of Israel after the death of Moses. Joshua is about to lead the people out of the wilderness into the promised land and the Lord directs him to set up "memorial stones" as a sign for the generations to come so they will never forget God's faithfulness.
Now the people came up from the Jordan on the tenth of the first month and camped at Gilgal on the eastern edge of Jericho. Those twelve stones which they had taken from the Jordan, Joshua set up at Gilgal. He said to the sons of Israel, "When your children ask their fathers in time to come, saying, 'What are these stones?' then you shall inform your children, saying, 'Israel crossed this Jordan on dry ground.' "For the Lord your God dried up the waters of the Jordan before you until you had crossed, just as the Lord your God has done to the Red Sea, which He dried up before us until we had crossed; that all the peoples of the earth may know that the hand of the Lord is mighty, so that you may fear the Lord your God forever."
Because we have moved 10 times in the past 12 years of our marriage, a curio cabinet hasn't worked well for us. So, this blog serves as our memorial–our showcase of God's faithfulness.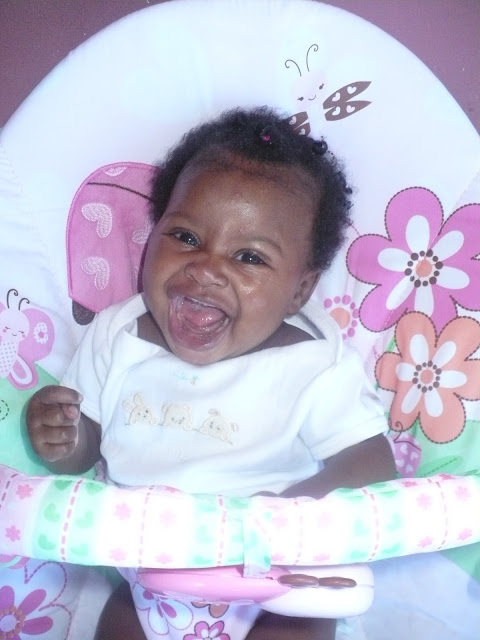 .
Last year we prayed over pursuing the adoption of another child and for a brief time we were matched with a baby boy we love.  We prayed and waited for many months to allow another family to come forth because we were not at all eager to go through yet another Haitian adoption process. When another family did not come forward we eventually turned in paperwork that would allow us to foster him while in the adoption process to give him a better chance and open up a bed for another child at the orphanage. We collected items for him and prepared to bring him into our home.
Then God answered our prayer much differently than we anticipated. Instead of the baby boy we had been praying for coming to live with us, a 15 year old boy showed up unexpectedly at our door. Then a 4 year old boy. Then we found out we would have to completely redo Esmée's adoption paperwork. We were told that with the particular complications in Esmée's paperwork there was no way to begin a new adoption at the same time. We also were told that there was now a family that could pursue the baby boy and at that time with all that had happened we had no idea how we would manage with a new baby in our home. We let him go.
I got to see him again a few months ago at the orphanage. It was bittersweet.
But all the while Eric and I really struggled with how we would be able to care for a baby (let alone afford another adoption) considering our meager income, living arrangements, upcoming travels, and the many needs of our 4 children. We knew that God had answered our prayers about the baby boy with a "no" for our good and in time He mended our hearts.
Ever so sweetly the Lord placed a baby in our home…not to parent, but to love.
Her gigantic smiles melt away the hard parts of our days.
Little Evangeline is an answer to prayer and brings us much joy! She makes missing all my little nieces a little more bearable, though she makes me think about them even more!
We will remember that unanswered prayers are for our good and that in time our joy will be full.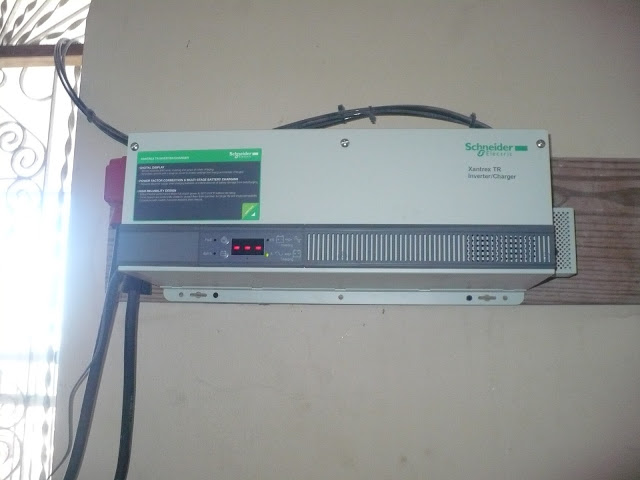 This is our new inverter. It allows us to have electricity in our home in Haiti. We prayed for God to provide the money for this expense as He called us to move to a new town/new home with few provisions.
We will remember that God always provides for where He calls us to go.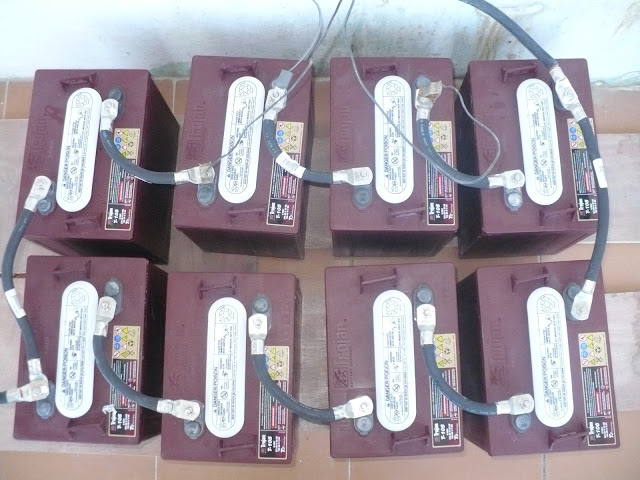 These are our new batteries that go with the inverter.
We were able to purchase these things only because of friends who love and care about us who were obedient to God in giving.
We will remember that the Body of Christ is a blessing.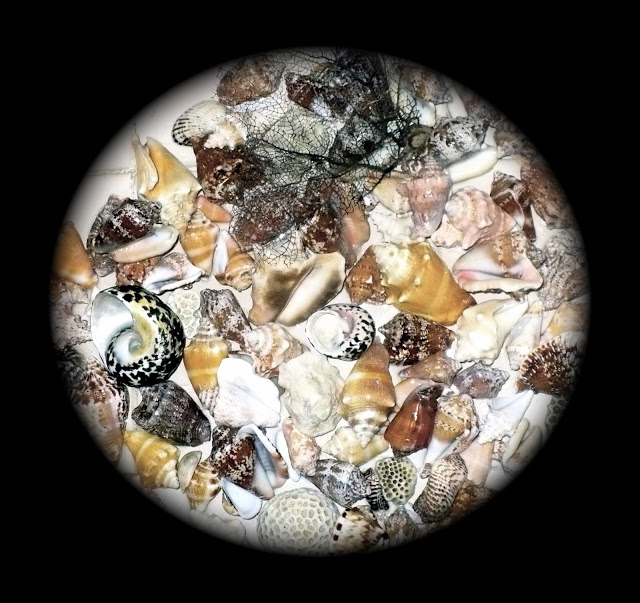 We knew before moving to St. Marc that our new home and school would not have a yard.
We prayed for a place that our children could play and enjoy God's creation.
We discovered that we could walk to the beach.
And these pieces of God's creation came home with us.
We will remember to enjoy and praise Him for creation.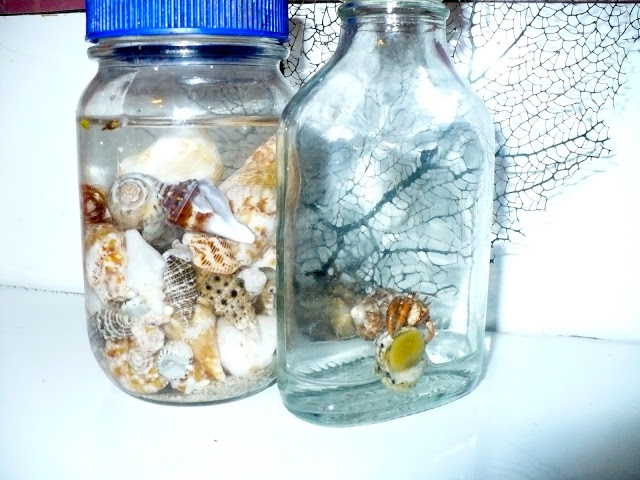 We found some living treasures too! A snail and hermit crab are new family pets. They were carried home in these jars also found among the trash that lines the beach as it does everywhere in Haiti.
We will remember that God helps us find ways to get us through our days, that we are His treasures, that He carries us, fills our lives with joy and that He often does this through the smallest of things.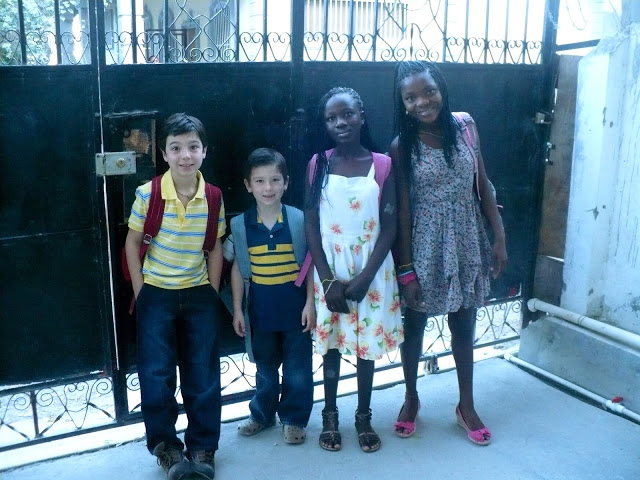 This picture was taken on our way to our first day of school at El Shaddai Learning Center.
Honestly, I believed and utterly felt I was at the end of my rope with homeschooling 4 children with a wide variety of needs in a 4th world country. I prayed that this school would be a good fit for our girls academic and social needs that I was struggling to meet at home. I prayed that our boys would adjust to being the only white students and that the school would be a good fit for them too.
Today was the last day of our first week of school and all 4 kids have come home each day to each report that they had a great day.
We do not have school on Fridays which allows for us to still do some supplemental schooling at home…learning the things we enjoy learning about together and not so much of the things that make for frustrating, draining days.
God is answering our prayers for our children…and for us to keep our sanity.
We will remember that God knows how much we can handle, and what is best for the children He has entrusted to us.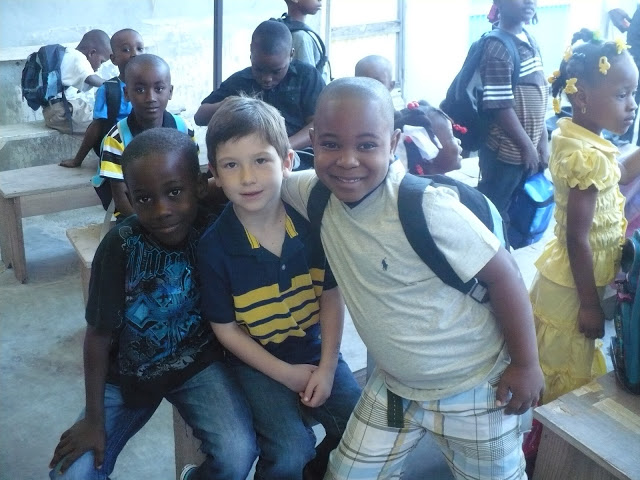 Here is Evan with new school friends.
All our kids have made new friends this week.
The past few months as I have prayed for my childrens friendships I have remembered a lonely time in my childhood when I had been homeschooled, transferred to 3 different schools in a year, and struggled to find a real friend at a new school. I was 13 years old at the time. I prayed specifically that when I got to my new school that God would provide just one special friend. Little did I know the friend He picked out for me was praying the same prayer. I will forever be thankful for God's gift of Stephanee in my life. I shared this story with my 13 year old in her loneliness. We have been praying together for her special friend. Today Elita Marguerite came home with a page she had written about how thankful she is for her family, her new school, her new special friend (whom is playing at our house now) and her new___ (another answer to prayer below).
We will always remember to thank God for the gift of friendship.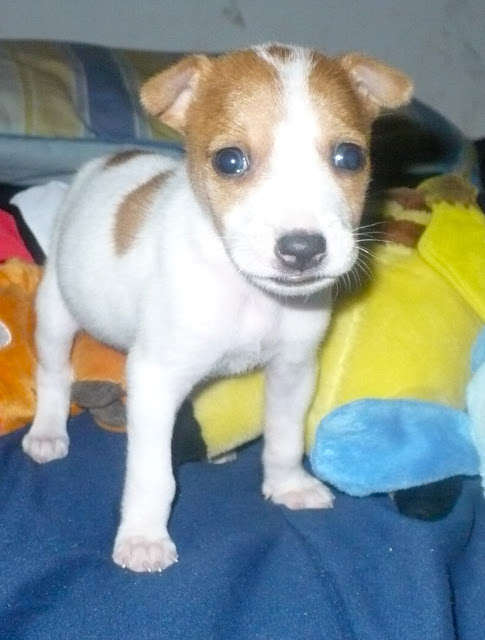 I found myself praying the strangest prayer in the past few months. I began praying for a pet dog for my children. This is strange because I have never wanted a dog before (not since childhood) and having one more messy, noisy, costly thing to take care of in our busy lives certainly wasn't at the top of my prayer list. But as I watched my boys (and even Elita who has been the least fond of animals or the idea of pets in the past) playing incessantly with my siblings little dogs and my parents cat the month we were in the states, I surprised myself by thinking and then praying that maybe we could get a little pet dog for them to enjoy.
But a sweet little dog isn't really practical because logically what we need is a cat (to catch the mice in our house) and a big guard dog (for security). But I am allergic to cats. And the thought of feeding and taking care of a big guard dog wasn't allowing that option to enter my prayers.
So I prayed for a little dog.
Last night God unexpectedly answered that prayer.
We will remember that God reminds us of how He looks after the animals and that He promises to look after us too.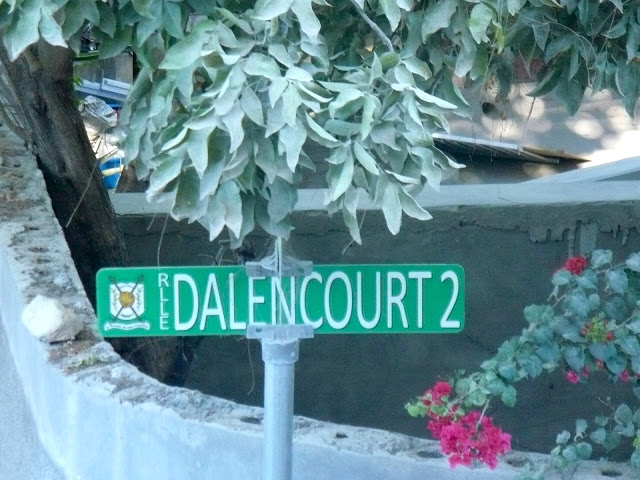 It was dinner time. I had dozed off while reading a book. Eric had dozed off too. We were awakened by the announcement, "We found a puppy!" Our children like to joke a lot and I was pretty sure this was another joke.
Then I saw that it wasn't.
I have never been a big sucker for pets but I have a serious weak spot for rescuing helpless animals (and sometimes people).
One look at this pup told me she was in definite need of rescue.
If you had seen her yesterday you would never believe it is the same pup as in the pic above.
I wish I had taken a before shot.
But I was overly concerned with the fact that in addition to mice and mosquitos, our house would soon be overthrown by fleas as well.
I had two choices.
Throw puppy back in the trash puddle she came from while my children watch her be squashed by many a moto
OR
head up a serious intervention and pray her survival rate beats the street.
I originally thought pup was an ugly brownish gray color with lots of little black spots.  That's how dirty she was and how many clusters of fleas were biting the life out of her little body. I have never seen that many fleas on a dog. There literally had to be at least a thousand. I have never had to de-flea a dog and there are no stores around with dog supplies. So I grabbed the only option I had to work with — medicated anti-dandruff shampoo (which thankfully the fleas detested)–scrubbed and stuck that pup under high pressure water to unstick the fleas, got soaked and flea bitten myself, and about an hour later wondered if the exhausted but flea ridden "ti chen" (little dog) was going to make it.
We wrapped her in a towel and gave her some warm milk.
The kids begged to keep her.
I warned the children that she might not make it.
Ethan said bravely, "well then at least she will have the best rest of her life with us tonight".
I told them we could pray for her cause God cares about puppies too. Then I told them that if she makes it that maybe we can keep her cause I've been praying for a pet dog. The kids all said, "We've been praying for a pet dog too!"
But daddy hasn't.
So we shall see.
We debated about a name for the new puppy. "Cutie", "Spotty", "Buddy", and "Buggie" were top choices. I asked the kids to tell me about how they found the dog and how it was that the pup appeared inside our house when they are not supposed to go outside it. Genise vouched for them. She must want a puppy too. Apparently Evan was playing on the upstairs porch and spotted the poor little pup lying in a puddle in the middle of the street below. He called Ethan and the girls to come quick and see. Then before all of their eyes they saw vehicles quickly approaching. One, then two missed. The next moment Ethan was in the street scooping up pup.
At first we thought about looking for potential owners.
But we knew no one else cared about this puppy.
He is just a little street dog.
So we named our pup "Dalencourt" (D.C. for short)…because we plucked him off of this street in front of our new home. I've been thinking as I look at this sign from our porch each day that Dalencourt seems a mighty majestic name for this neighborhood. Perhaps God has bigger plans for the neighborhood too.
We will remember that God tells us to serve the least of these and that His provision of a puppy is a way for our children to learn to practice this more.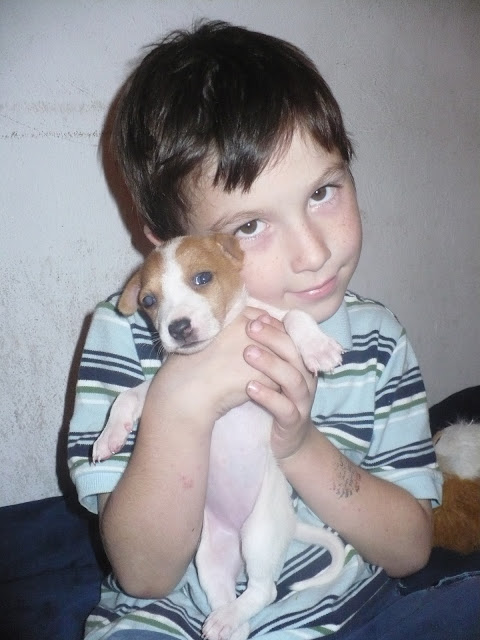 We will remember that God is growing our children in love and faith too.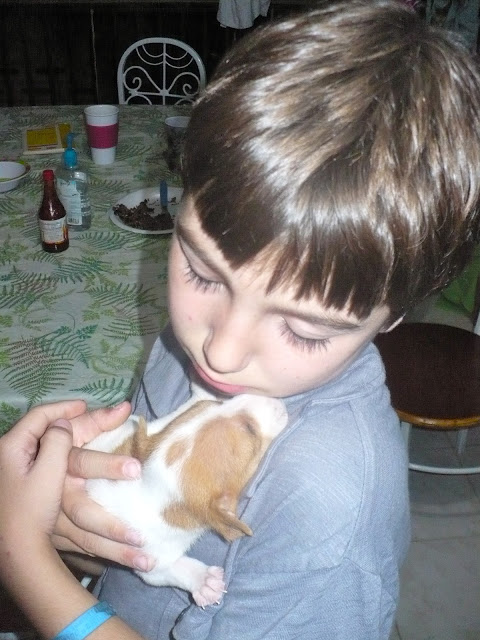 We will remember that there are lives all around us in need of hope, in need of rescue. We never know when the last day of our life will be, so let's remember to give our best each day.
We praise the Lord for salvation. We thank Him for opportunities to share about true freedom through a relationship with Jesus Christ. We thank God that today Eric got to share the good news with a student and that student believed in the truth of the gospel.
As I read these verses in Joshua again I noticed that Israel's memorial stones were set up "on the tenth of the first month". Today is the tenth day of our first month. But everyday is a good day to remember God's faithfulness.
What are your memorial stones?