We have been reading about the life of George Muller with our family the past month. Tonight we read about how George Muller prayed for yet more money to be raised for another house to meet the needs of those in his care. God had already provided so much more than he could ever imagine and yet here he was asking for more. But he had seen God provide over and over and over again and George knew God could do it again. We believe that too and pray that we will continue to learn to have that kind of faith.
Honestly my prayers lately have come from a place of weariness and desperation more than faith, but I know God understands that too. We moved several times in Haiti (um. exhausting.) in the past four months while waiting to move to St. Marc in January. We are still living out of suitcases. None of us really want to unpack because we do not want to have to repack–again. We are living in the house that was previously the elementary school building before the new school building opened in January. It needs a lot of work and we have found that this house isn't working very well for us and the Haitian family that moved here with us. We thought there were three bathrooms. There are three. One is an outhouse, one does not work, and the other is the one that the 8 of us are sharing and also where all of our laundry is washed daily. This doesn't work out well too much of the time. Today the girls came and reported (in a humiliated tone) that Evan had resorted to Haitian style peeing on the street outside.
However, we are truly thankful for this house and to experience what it is like to use an outhouse! Landing here has provided an opportunity to get to know our community and live as inexpensively as possible while scoping out other options before the rent needs to be renewed for the year come April. We do not desire to renew the rent. My frustration with utter disorganization, tons of dust, millions of mosquitoes and the many dogs that are very drawn to this house led me to almost immediately start searching for an alternative. Nothing seemed right. I sensed God saying, "think about where you are, who you are, what I have called you to do, and what is best considering all these".

Because our desire is not only to work but also to live among the people we work with, "best" would be to stay close to where we are now near the school. We do not yet have personal transportation and I wondered, "maybe the hardship of not having a vehicle is part of God's direction in keeping us close to the school"? Eric and our children walk to and from school. We cannot imagine having to get up an hour earlier and take motorcycle taxis to school. I help with phonics at the elementary building and it is best that I can come and go from home as I am needed at the school. We have also been helping Genise (who lives with us) set up a new little (for her profit and the school's benefit) business selling drinks/snacks at the school. She needs to be close to the house to care for the needs of her four month old baby that I take care of whenever we need her to run errands and when she is scheduled to work the snack shop at school. All these factors played around in my mind and I decided not to look at any more houses that were not within a few blocks of where we currently are living. This narrowed options dramatically but I knew it was right. If there was not another house nearby that would be a better fit for us then perhaps we are just supposed to stay where we are and make the most of it. But I didn't think so.
Since we have lived in Haiti we have hosted many guests in our home and have used our home for many things such as helping adoptive parents, fostering children, hosting friends from the U.S., Canada, and Australia that needed a place to stay or came to work with us for a season, Bible study, English classes, meetings, etc. One day I reprimanded one of my children for interrupting a conversation I was having with one of our houseguests. My child responded politely but then said, "but there is always someone here" and I realized this was true.
We love to open our home for hospitality and the opportunity to use our home in one or more of the following ways is ever before us. We recently spent time with a visiting team that served in Haiti for two weeks. We noticed that the Walker family (founders of El Shaddai school) hosting the team were under extra stress during this time and we wished we could have helped alleviate part of the burden of hosting so many people.
Opening our home to house teams/families visiting Haiti.
We have been asked to consider taking in a few extra kids for different reasons at different times from a nearby orphanage. We would like to be able to have a place available as needs continue to arise. We have also potentially offered our home as a "transition home" for children in the adoption process who are close to being ready to journey to their new families. El Shaddai has agreed to take Pre-K and Kindergarden children that do not require an English prerequisite if we did this. The goal would be to get the children in a smaller non-orphanage setting, immerse them in English, love on them, introduce American foods, etc. while in the comfort of their own culture. We believe that when a child does not have so many adjustments to overcome at once that they will be able to bond to their adoptive family faster which helps decrease the chances of attachment disorders. We would hire a live in nanny to help with the children's care as well. We have just the person in mind and this would create a needed job for her.
Opening our home as a transition home for children in the adoption process.
And yet another option would be to open our home for housing teachers that would like to come and serve with El Shaddai Learning Center for a semester, year, or longer. Foreign teachers have to raise 100% financial support and so few are able to come. The Walkers currently house three American teachers and we would like to be able to help meet this need in the future as well.
Opening our home for housing teachers to serve at El Shaddai.
I spent two weeks walking through the neighborhood and asking about houses labeled for rent. I was also shown several houses that suddenly became available upon my asking. I quickly became discouraged because every house was either too small, too strangely shaped, needed too much work, too expensive, etc. I finally called on the last house on my list of options. I have now looked at it three times and it is a definite possibility for "best"!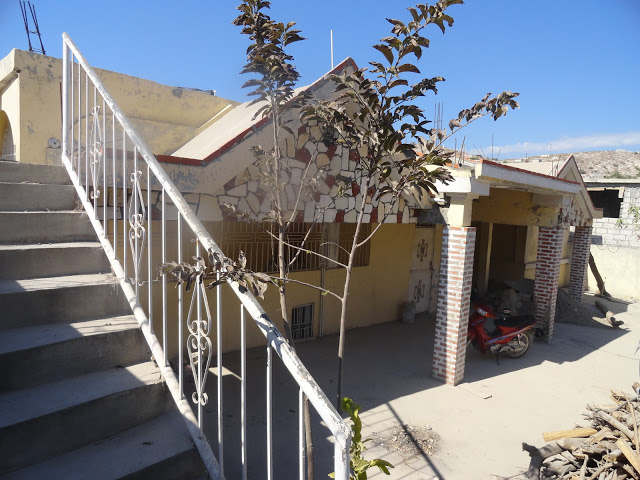 This is the backside of the house that occupies the same street where we currently live. It is located right across the street from the elementary school building where our children attend.
There is no yard but there is a some space for playing around the house.
The stairs lead up to the rooftop which holds the water cistern (and a beautiful view). These easy access stairs are so delightful compared to the steep ladder at our current house. The water cistern on this roof is a 500 gallon which would also be a blessing to have instead of the two 150 gallon tanks we have to fill now in order to have clean water. We are thinking that if this house is meant to house many the fact that there is already a large water tank in place is really super! But the #1 thing I was looking for in a house is windows with screens and glass that can be closed to keep out smells, mosquitoes, and dust. I know it won't entirely keep these things out but it will help dramatically. This house has such windows!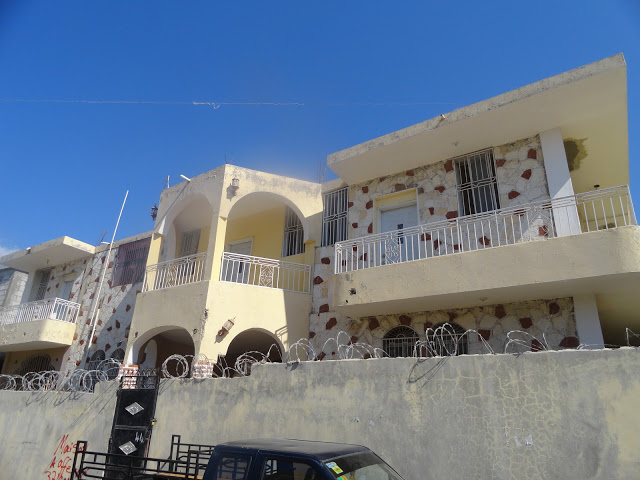 This is the front side of the house that better shows its size.
The top half includes 4 bedrooms, 2 bathrooms, kitchen, dining room, living room, a space that could be used as an office, schoolroom or playroom, 3 balconies and an enclosed porch.
The bottom half includes 3 bedrooms, 2 bathrooms, kitchen area, dining room, and living room.
All this = a lot of space that can be put to good use for God's glory!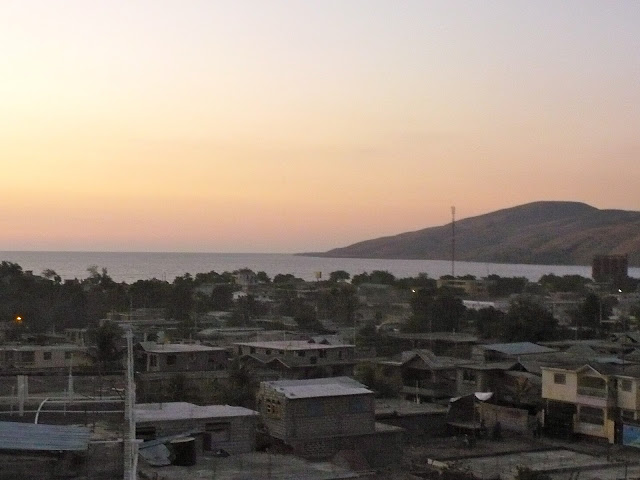 The view of our seaside community from the rooftop is also a plus! We think it would be a great spot to sit, read, listen, worship, and dwell on God's faithfulness!
If you think so too, please share this and the fundraiser we have set up through PayPal. You can find the fundraiser site on the top right hand side of this blog. The need is to raise $10,000 in the next month to rent this house (for an entire year) if this is the Lord's will. This should help us with some of the cost of acquiring electricity as well.
Our family would live on the smaller bottom half of the house which would give us and our children much needed privacy and the feeling of home even when houseguests abound. We never want to neglect our marriage and children in the name of "hospitality" and really need a place where we can be a family, rest, and be renewed so that we can serve each other and our community well. The top half would be used for things such as visitors/missionaries to Haiti, fostering children, and/or housing teachers. We think this is the best place to land when considering where we are, who we are, and what God has called us to do here in St. Marc, Haiti! We are excited about the possibilities!
Once again…
If you would like to contribute and/or share this fundraiser please visit the February fundraiser -Haiti Hospitality House FundRazr button located at the top right of this blog and click on it for more details and/or to donate through PayPal.
"The greatness of the sum required affords me a kind of secret joy; for the greater the difficulty to be overcome, the more will it be seen to the glory of God how much can be done by prayer and faith." George Muller