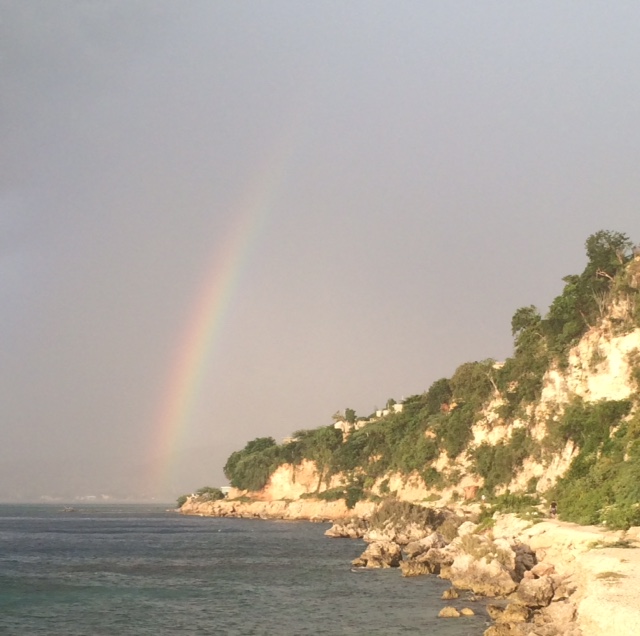 We will never forget the all night packing party and saying our final goodbyes before the sun came up on September 4, 2011. We knew very little of what would lie ahead but knew without a doubt that we were supposed to be here. It was a rainy night about the same time we write this now when we stepped inside our first Haiti house and unloaded the twelve wet bags containing all the earthly belongings we managed to bring along with us. We had anticipated that moment for so long and it was good to finally be home! Haiti has been our home now for the past five years and God has brought us over and through many mountaintops and valleys. It has been a sweaty, joyful journey of faith that we wouldn't trade for the world! Today we celebrate by sitting in our air conditioned vehicle charging our computer and phone and reminiscing about how our Lord has provided for us and trusting that He will continue to provide  for all our needs. We are sitting in the car because we have been out of power at our house for the past few days. Lord willing, the long road to Port au Prince will not be blocked tomorrow and the technician coming to assess whatever is wrong with the generator will figure it out and be able to get it fixed all in a one day trip. We know that is wishful thinking and will keep rolling with the punches whatever tomorrow brings! We are just thankful to be here! Thank you to everyone reading this who has helped us in many, many ways to make Haiti our home the past five years! We couldn't/wouldn't still be here without you!
Starting our sixth year in Haiti we want to share what we will be up to this year and our personal family and ministry needs that are pressing at this time for us to be able to have a fruitful year.
A CHAPTER CLOSED AND NEW DOORS OPENING IN SAINT MARC… 
We have been praying Eric will have more time to train and equip pastors and believers to make disciples and plant churches. It is time! Eric has served at El Shaddai Learning Center where our children have attended school the past 3.5 years. Eric will not be serving as principal for the international school this fall and only two of our kids will be attending there. We are very thankful for the fruitful ministries at the school and we are excited to pray and watch God continue to strengthen those Eric has helped to train and disciple at the school. We are also excited about the new doors and  time commitment openings for increased pastoral ministry and other ministries listed below!
KOFAEL MINISTRY CONTINUING IN PORT AU PRINCE AND NEW START UP…
We have served on the board of KOFAEL for the past four years and will continue the ministry by encouraging and assisting our Haitian leadership who impact and influence the KOFAEL ladies. The ladies in turn are better equipped to strengthen their own families. God has used the micro loan business to create more options for families in Haiti to keep families together instead of creating more orphans. The ministry of KOFAEL continues to help moms and grandmas to feed, care for, educate and be a godly example to their children and grandchildren.  Alongside our mission Heart of God Haiti, we have committed to help KOFAEL with partial rent this year.  We need your help to make this happen before the rent is due in October.  $3,000 is the current balance needed for half the yearly rent payment (which has to be paid up front at the start of another year's contract). The rented house in Port au Prince is a home for our Haitian KOFAEL directors (the Osier family) and serves as a training and monthly meeting place for the fifty KOFAEL women enrolled in the Port au Prince branch program.  We are also about to renew our national paperwork to keep KOFAEL in current standing with Haitian government regulations. $500 will enable us to renew KOFAEL's non government organization status with the Haitian government for another 5 years.  Therefore, we need to raise $3,500 for the remainder of the KOFAEL ministry organization needs at this time. This is the bulk of the yearly overhead sum and all other money raised thus far is set aside for new women's business loans that are sustainable once rolled into the program. We also have a new start up branch of KOFAEL outside Cap Haitian which is quite a trek away for us. Our Haitian director Frantz has been flying or taking a two day roundtrip bus trip there to meet with the women. Eric and Frantz will be traveling there at the end of this month to begin the new loans.  We also have an American friend who works in that area who is ministering to the women and giving us feedback on the situation regularly. Please pray for progress in starting another KOFAEL group in a new area that has a great need.
MINISTRY IN GODET WORKING TOWARD PLACING CHILDREN IN FAMILIES…
Our mission organization Heart of God Haiti has been invested in a children's center (aka "orphanage") since after the earthquake in 2010.  There were eighteen kids at the orphanage in Godet. Our mission did not have anything to do with the initial placement of the children there, but stepped into help during a time of emergency and has continued to meet needs and build relationships. Heart of God Haiti has partnered with a Haitian church and it's children center staff, paid the staff, fed the children and staff, and has provided for the children's physical and educational needs for the past six years. Building relationships as our Haitian Creole language abilities and understanding of the culture has increased the past few years has helped us recognize that many of the kids at the center are not orphans and have families that could care for them with a little help. Therefore, we as an organization have sought out what is best for each child's situation and the best way to place ALL the children in families whether that be bio, kinship, community, foster or adoption.  Meeting physical and educational needs and even when a missionary has lived at the center with the children doing their best to meet spiritual and emotional needs never replaces what a child truly needs–a family. We believe that institutionalizing children (which keeps them out of real families) beyond short term temporary placement is not helping, but hurting children long term. Yet things are not at all simple when seeking to reunify children who have been away from their parents, relatives and communities for many years. Local adoptions in Haiti are still unfortunately largely countercultural. International adoptions sentence children to way too many years in an institution before there is even hope of finding a family. We know this from personal experience as our daughters spent ten years and four years in orphanages before their adoptions could be finalized. Most orphanages in Haiti do not even process adoptions and that is the case for the Heart of God Haiti children's center. This painful process of reunification has taken years, but progress has been made. Three of the children who are true orphans have been accepted by an uncle and our mission is still helping with education and rent on a house with an extra room so the boys could have a room to sleep.  Another boy has been reunited with his parents.  We have five other children that we are close to seeing returned to their families too. Three more sisters can go home when their mom finishes her home construction. Money is needed to help finish their home. Eric and our ministry partner Jason Carroll will be traveling soon to access how much money it would take to finish this home for a mom and her three daughters.  Another pair of sisters are ready to be reunited with their mother.  This mother has a home, but she needs a business/job.  We have been talking with our ministry partners and with our KOFAEL directors to see if this mother can qualify for a micro loan and begin a small business in her village.  Please continue to pray as exciting things are happening, but still much more needs to be accomplished. It is our heart to see children raised in families which we know is God's heart as well.
ENCOURAGING THE SAINTS IN MONTROUIS…
Eric preached at our church, Montroius International Fellowship, this morning as he does often on Sunday mornings. We will continue to serve the international, missionary and Haitian community who attend the church as God allows alongside a group of other men in leadership and their families.
CHILDREN AND FAMILY MINISTRIES AT HOME…
Our neighborhood ministry to families and their children is dear to our hearts.  Elisabeth has been trying to raise school sponsorships for many of the children to help their families with this heavy burden so they can meet other daily needs. Many of the children come to our house daily (sometimes multiple times a day) but this will slow down a little once school starts back up. School is due to start this next week but usually the majority of the school aged children don't actually show up until October. The kids come once a week for a Bible lesson, play/game time, a snack, drinking water (and sometimes with large buckets to take water home for showering and doing laundry). Our water to bathe, do dishes and flush toilets is not cheap and we have to summon, wait for and pay a water truck delivery service to even get water at our house. But these children don't have the capability of getting water at their house at all. They carry water in buckets on their heads from miles away each day. The Ream Team kids are a huge part of the ministry to our neighborhood children. Sometimes the mom's of the children come over and watch their kids jumping on the trampoline and playing with our children which opens many more doors for family ministry!
MINSTRY TO OUR FAMILY FIRST…
Our kids are growing up. They eat more. They wear more. They need more of a lot of things. Our personal children's educational needs have increased this year and will continue to increase with each passing year. Raising growing kids on the mission field has outgrown our finances. Educational limitations and growing family financial needs is one of the top reasons why long term missionaries end up leaving the field. We have had this conversation often because this is a big challenge for us not only in our limited budget that has never fully been met, but also the area where we live in Haiti that has severely limited options for schooling and pretty much no extra curricular options (other than ocean activities which are a huge plus). But we believe that we are still supposed to be here and we want to be here so we are trusting God with those details as we entrust our family to Him.  We are excited for the growing changes and challenges ahead. We searched diligently over the summer and received counsel from many friends and resources to figure out the best ways of meeting our individual children's needs that will hopefully blend with our unique situation (and physical daily challenges living in a 4th world country) and do so as financially responsible as possible. This year we are attempting to try out a smorgasbord of curriculum to see what works best. Elita Marguerite has started a basic graduation program that she can complete at home through online classes. Esmée will be attending El Shaddai school again this year four days per week but will be doing a different math curriculum at home. Ethan will be home schooling and taking a few classes online this year. Evan will be attending El Shaddai part time for three subjects and completing two others at home. We needed more computers to make this happen for our kids and are very thankful for friends and family that stepped up to help meet that need! All of the five computers we brought back to Haiti from Texas made it safely and have already been put to good use! Please pray for our kids to have a great year of learning and growing and ministry alongside us! We still need to be able to cover a total of $2,500 in school fees, books, and supplies for our four children this school year.
Our personal and ministry financial needs listed below. 
Ream Team donations at:
Ministry donations at:
One time donations in any amount welcome!!! 
Ream Team Kids Educational Funding Needs for 2016/2017 =$2,500
New Refrigerator (or used if we can find cheaper) =$1,000
Our previous fridge bought used had been slowly dying all last year and we had it fixed twice to make it last as long as possible. It was a constant chore to keep alive and it finally died in May. We have a small refrigerator in our guest quarters downstairs that we are currently using but it is very insufficient for a large household and we desperately need a much larger refrigerator asap.
We have an old deep freeze that we have fixed multiple times as it too has tried to go out. It is not efficient as it runs constantly and uses up too much precious electricity and expensive gas to run the generator. Not to mention it is very noisy and leaks. We need a deep freeze in order to buy food in bulk which saves money and helps us store food for when we cannot travel to get it due to road blockages, and frequent manifestations.
Complete Construction of Indoor Stairway to the Roof =$1,500 
We began construction in May so that in our fourth year living at this house we can finally safely access the water collection system located on our 2nd story roof and cover the open areas of the roof where rats, rain and roaches constantly have easy access to our home. The project is still underway and once completed we will owe a remaining balance of $1,000 and need another $500 for repairs such as the large window sized hole in the kitchen wall and painting the affected areas. It will be nice to be able to see the ocean once again from our rooftop and have the option to sleep up there as it can be much cooler than inside the house at times (especially times like now when we have no electricity to run fans).
KOFAEL Meeting House rent due in October =$3,000 for another year
KOFAEL government paperwork fees to keep the organization legalized for another 5 years = $500
School sponsors still needed! We have 10 kids sponsored and still need 10 more sponsors! Sponsorships are $150 per child per year to pay for their school tuition and if money is left over to help purchase uniforms and school supplies. If you would like to sponsor a child please donate at http://kofael.org and include "child sponsorship" in the memo/notes section.
House construction in the Godet area for mom and three sisters to be able to live together. Price to be determined after Eric and Jason travel there to visit that situation. Please let us know if you would like to help with this future need.
Now to him who is able to do immeasurably more than all we ask or imagine, according to his power that is at work within us, to him be glory in the church and in Christ Jesus throughout all generations, for ever and ever! Amen.

-Ephesians 3:20-21